Food Documentary Magazine
Magazine F ****4 BEER (EN)
Category
Magazine > Culture / Lifestyle
Publisher Baemin, Magazine B | 170 X 240mm, 156 pages
■ About the Publication
Magazine F is a food documentary magazine co-created by Magazine B and Baemin, which introduces one particular ingredient that has had a significant impact on people's table. Baemin has become a critical mover and shaker in South Korean contemporary food culture, and B provides a balanced view on brands through multi-layered stories. This collaboration brings together these two areas of expertise in F, which is hoped to become a record of essential ingredients and food culture of our time.
■ About the Publishers
Baemin
Baemin is a food-tech company, founded in June 2010, by owner Bongjin Kim. With over 3 billion downloads, it is considered Korea's number one delivery app that leads the food delivery industry under the mission of "Good Food Wherever You Want". It now plans to expand its multi food-tech company in creating unique businesses like Baemin Riders, Baemin-Chan, and Baemin-Sanghwe.
Magazine B
Magazine B is an ad-free monthly publication that dedicates each issue to one well-balanced brand unearthed from around the globe. The magazine introduces the brand's hidden stories, as well as its sensibility and culture, and is an easy but also serious read for anyone with an interest in brands.
■ About the Issue
Beer is brewed from barley, hops, and water, and it is considered the most popular alcoholic beverage in human history. Roughly separated into lagers and ales depending on fermentation, lagers account for nearly 80 percent of all beer sold in the global market by big-name brands. The aughts saw a boom in craft beer comparable to the third wave of coffee. Primarily served by small breweries and always pushing the envelope for better quality, craft beer has made beer personal again. The emphasis on creating unique flavors also gave birth to new visions, like microbrews and gypsy brewing, through which craft beer evolves relentlessly in brewing methods or production practices, all the while adapting to new culinary trends with non-alcoholic beers or beer pairings at fine dining restaurants.
■ Contents
2 Intro
8 Letter from F
12 Message in a Bottle
Bold slogans that tell a story about the brand
14 Brewpubs
Metropolitan brewpubs, a symbol of subculture amid fierce competition that shapes the craft beer scene
26 Insight
Scope and definition of craft beer
30 New Wave, New Brewery
Breweries that demonstrate the trends of contemporary craft beers, from spontaneous fermentation to an eco-friendly practice that uses bread scraps
60 Academic Manual
The history, tradition, and style of beers that have evolved thanks to popular characteristics
76 F Lab
Homebrewing with two commercially available kits
80 Harvesting Hops
Hukins Hops, a hop farm that has continued for five generations in Kent, England
86 Varieties
Star hops that are pivotal ingredients in craft beer
88 Interview
88 Florent Ladeyn
Florent Ladeyn, owner-chef at Auberge du Vert Mont, presents contemporary takes on Flemish culinary culture paired with a proprietary craft beer
96 On the Table
Fine dining beer pairings that have shifted the beer paradigm
106 Beer Lovers
Praise for beer by four beer aficionados
114 F Cut
Brewing philosophies and styles as reflected in beer packaging
122 Interview
122 Brian Strumke
Brian Strumke, head of Stillwater, talks about the future of the craft beer scene
128 Retail
Bottle shops stocked with new, hippy beers
140 Into the Market
A selection of beers listed according to style
144 References
Books and videos presented by acclaimed beer experts
148 Outro
153 Dictionary
154 Index
4 – Images of Beer at Pubs
14 - Brewpubs
26 - Insight
30 - New Wave, New Brewery
62 – Academic Manual
76 – F Lab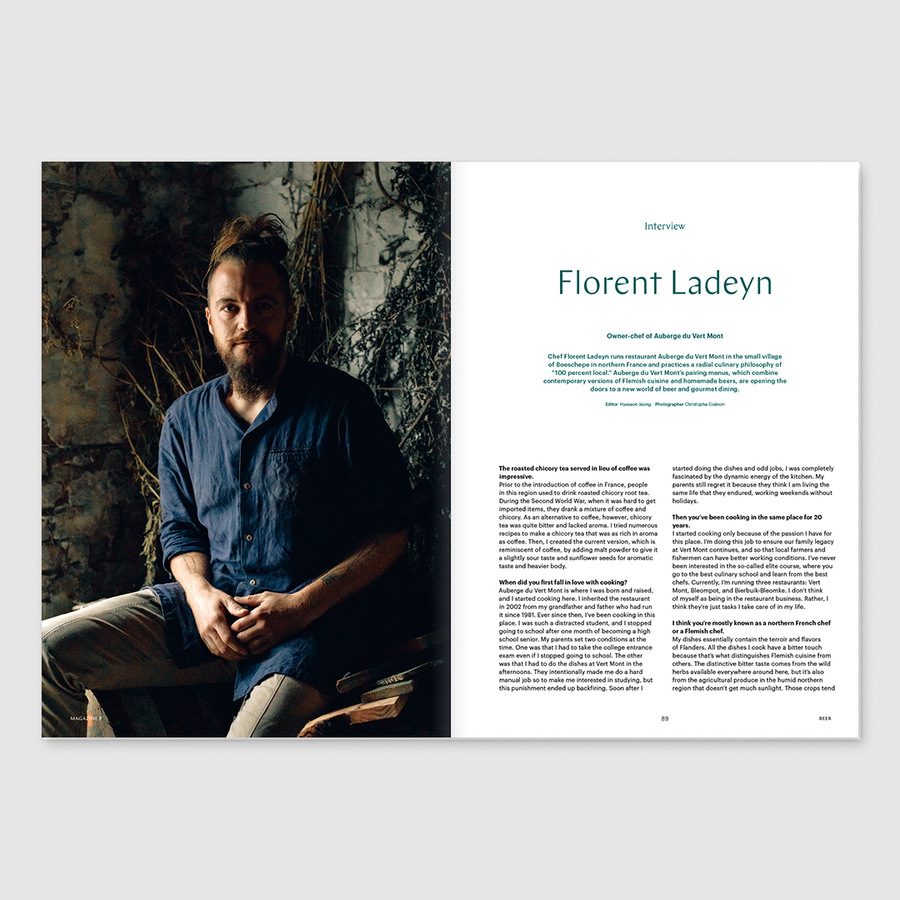 88 – Interview / Florent Ladeyn
98 - On the Table
126 – Interview / Brian Strumke
152 – Image of Beer at Pub