Food Documentary Magazine
Magazine F ****3 CLAM (EN)
Category
Magazine > Culture / Lifestyle
Publisher Baemin, Magazine B | 170 X 240mm, 144 pages
■ About the Publication
Magazine F is a food documentary magazine co-created by Magazine B and Baemin, which introduces one particular ingredient that has had a significant impact on people's table. Baemin has become a critical mover and shaker in South Korean contemporary food culture, and B provides a balanced view on brands through multi-layered stories. This collaboration brings together these two areas of expertise in F, which is hoped to become a record of essential ingredients and food culture of our time.
■ About the Publishers
Baemin
Baemin is a food-tech company, founded in June 2010, by owner Bongjin Kim. With over 3 billion downloads, it is considered Korea's number one delivery app that leads the food delivery industry under the mission of "Good Food Wherever You Want". It now plans to expand its multi food-tech company in creating unique businesses like Baemin Riders, Baemin-Chan, and Baemin-Sanghwe.
Magazine B
Magazine B is an ad-free monthly publication that dedicates each issue to one well-balanced brand unearthed from around the globe. The magazine introduces the brand's hidden stories, as well as its sensibility and culture, and is an easy but also serious read for anyone with an interest in brands.
■ About the Issue
Clams refer to mollusks with complex anatomical structures, spanning a range of species such as scallops, razor clams, butter clams, blood cockles, Asian hardshell clams, and mussels. Feeding mostly on only microorganisms like plankton, clams are like crops—two things that became both sustenance and treasures to humans since before the age of agrarian societies. Known as environmental cleaners that remove nitrogen from ocean waters and lower carbon dioxide levels in the air, clams are emerging as a sustainable food for the future. The unrivaled aroma and texture of these mollusks inspired myriad clam dishes across the globe, with some comparing the wide flavor nuances to the different marks of terroir on wines.
■ Contents
2 Intro
8 Letter from F
12 Oregon Seafare
Blue Siren Shellfish, a local wild seafood harvesting brand
26 Clam Divers
Divers who catch wild clams
30 Clam Exploration
A great resource for humans prior to agrarian society
38 Academic Manual
Extensive facts and information about clams
52 Fishmongers
Seafood experts from across the globe stick to sustainable fishing ethics
74 F Cut
Mysterious traces of the evolution of life, engraved on clam shells
84 Interview
84 Shina Wysocki·Marco Pinchot
Chelsea Farm Owner Shina Wysocki and Business Developer Manager Marco Pinchot focus on clam farming as a means for both environmental restoration and economic profit
90 Coastal Foragers
People who forage from the ocean while staying connected to nature
96 Interview
96 Jacob Harth
Jacob Harth, a chef who calls attention to the importance of traceable seafood
106 On the Table
Clam recipes based on countless innovations and experiments
130 Into the Market
Raw clams caught using a sustainable fishing practice and their convenient, processed counterparts
134 References
Books and movies recommended by chefs, clam experts, and coastal foragers
136 Outro
142 Dictionary
143 Index
14 – Oregon Seafare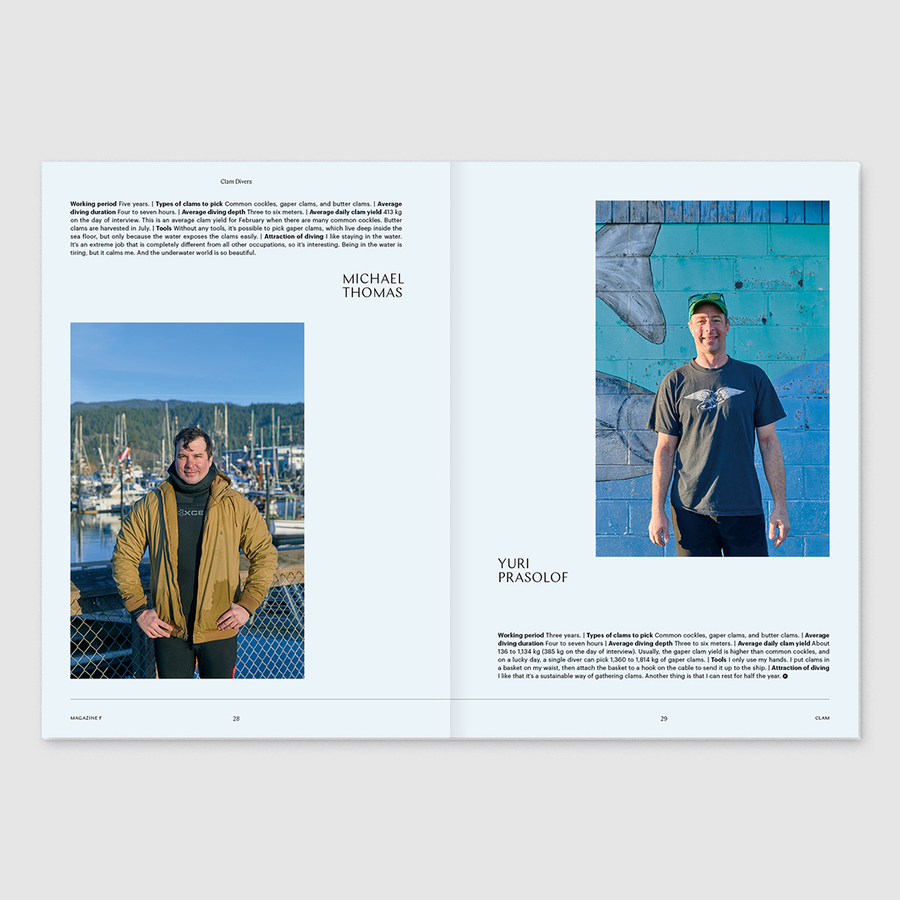 28 – Clam Divers
40 – Academic Manual
66 – Fishmongers / Flying Fish Company
68 - Fishmongers / Flying Fish Company
84 – Interview / Shina Wysocki·Marco Pinchot
90 – Coastal Foragers / Kondo Taku
102 - Interview / Jacob Harth
128 - On the Table / Ceviche Project
136 – Image of Clams at Market