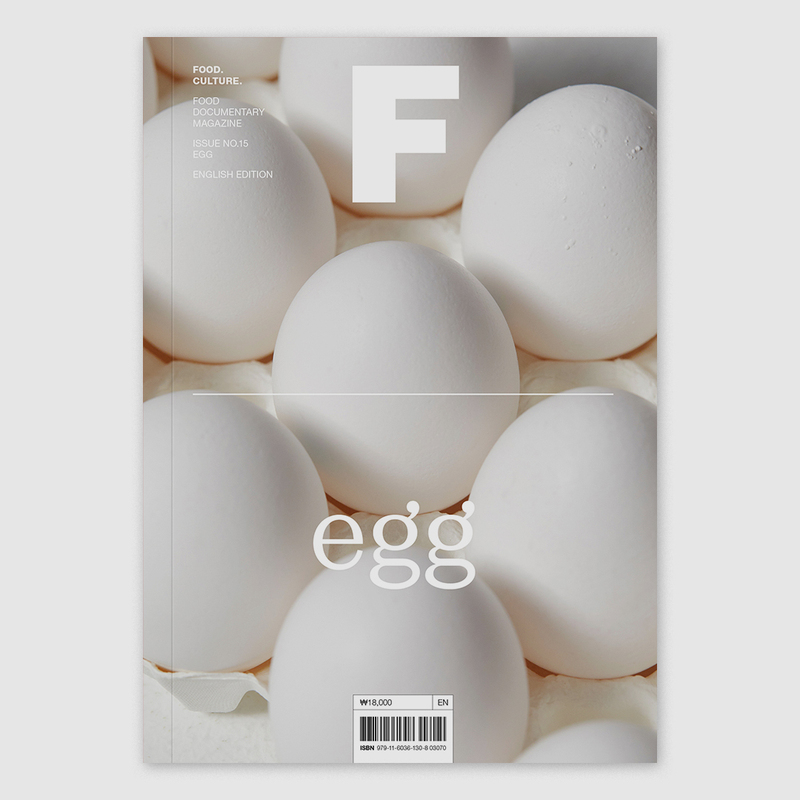 Category
Magazine
Publisher Baemin, Magazine B | 170 X 240mm, 152 pages
■ About the Publication
Magazine F is a food documentary magazine co-created by Magazine B and Baemin, which introduces
one particular ingredient that has had a significant impact on people's table. Baemin
has become a critical mover and shaker in South Korean contemporary food culture, and B
provides a balanced view on brands through multi-layered stories. This collaboration brings together these two areas of expertise in F
, which is hoped to become a record of essential ingredients and food culture of our time.
■ About the Publishers
Baemin
Baemin is a food-tech company, founded in June 2010, by owner Bongjin
Kim. With over 3 billion downloads, it is considered Korea's number one delivery app that leads the food delivery industry under the mission of "Good Food Wherever You Want". It now plans to expand its multi food-tech company in creating unique businesses like BaeminRiders, Baemin-Chan, and Baemin-Sanghwe.
Magazine B
Magazine B
is an ad-free monthly publication that dedicates each issue to one well-balanced brand unearthed from around the globe. The magazine introduces the brand's hidden stories, as well as its sensibility and culture, and is an easy but also serious read for anyone with an interest in brands.
■ About the Issue
Eggs, a food ingredient strongly associated with chickens, are laid by poultry like ducks and turkeys. A fundamental and versatile foodstuff, a single chicken egg is an ideal source of protein with high biological values (BV) reaching up to 100. Eggs appeal to everyone, and anyone from novice home cooks to professional chefs enjoy boiling, frying, whisking, and even incorporating the raw ingredient into endless culinary creations. They star in ubiquitous Western brunch dishes like eggs Benedict, croque madame
, and scrambled eggs, and they shine in classic Asian steamed eggs and rolled omelets. Without a doubt, eggs are a staple across the globe. Now the conversation has turned to animal welfare, sparking a remarkable rise in free-range, organic eggs and egg alternatives as a substitute for animal protein.
■ Contents
2 Intro
8 Letter from F
12 On the Farm
Prominent farms committed to animal welfare
18 Farmhouse Rules
Meet three people who farm and live rustic, pastoral lifestyles
38 Guide to Eggs
Varieties and characteristics of eggs, basic storage methods, and recipes
44 Academic Manual
History, simple recipes, and other facts about this perfect food staple and global mainstay
60 F Cut
Egg cartons as the new indicator of a farm's environment and poultry-keeping practices
68 Morning Habits
Seeing the popularity of eggs measured by social media foodies and breakfast posts
72 Interview
72 Walter Manzke
Owner-chef of Republic wakes up LA with its uniquely Californian pep and top-quality ingredients
76 Mamoru Sugiyama
Fourth-generation and current owner-chef of Ginza Sushiko Honten serves up traditional sushi
82 The Egg Spot
Creative egg recipes found in urban hubs seeking healthy, trendy cuisine
106 One Good Meal
Eggs energize these tables for four all day
114 Interview
114 Bill Granger
Opening the Bills café in Sydney in 1993, the founder of Bill Granger & Company is credited with putting Australian breakfast on the world map
120 Delis & Shops
Birthplaces of accessible and masterful everyday cuisine
132 Industry
Platforms tracking changes in culinary cultures
136 Tools
Smart tools used to cook eggs
138 Into the Market
A list of egg products by category
142 Cookbooks
Culinary experts reveal secrets to brighten up any table
150 Dictionary
151 Index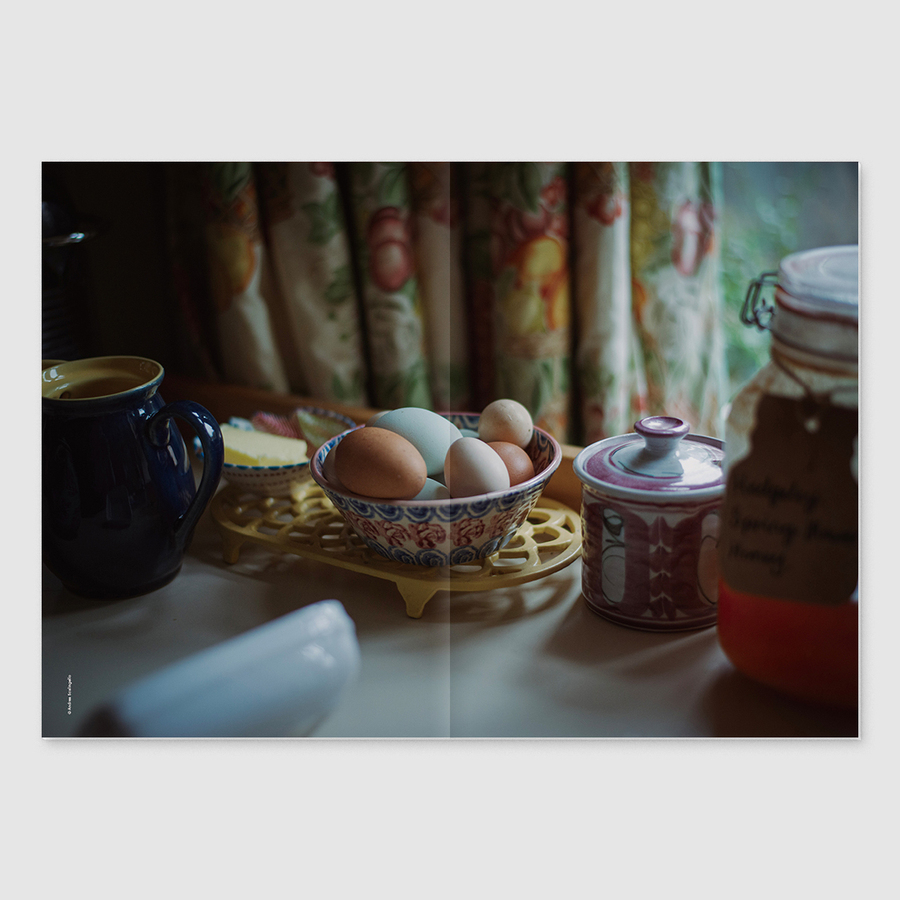 6 – Image of Eggs at Kitchen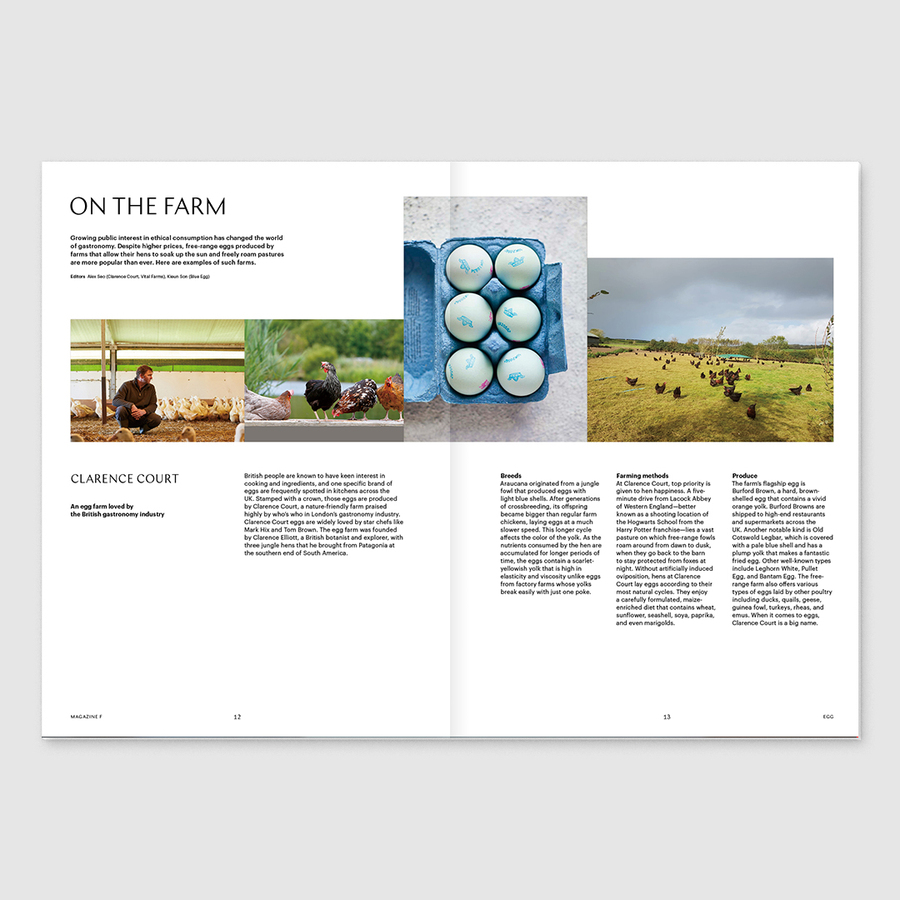 12 – On The Farm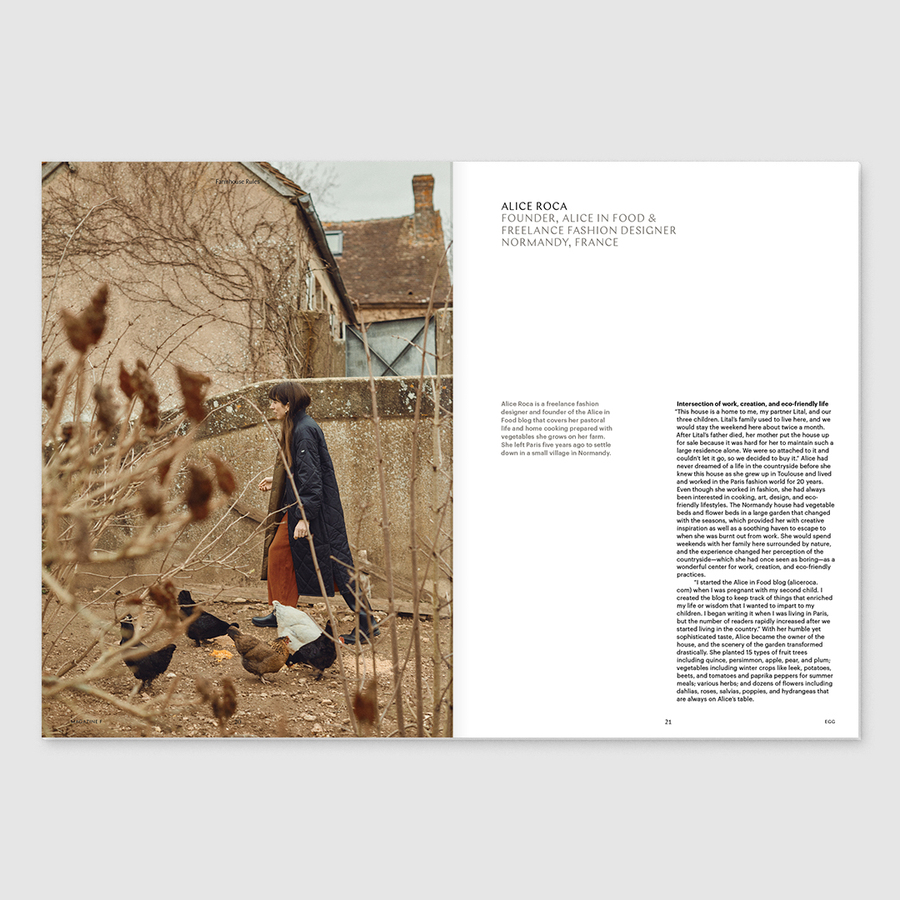 20 – Farmhouse Rules / Alice Roca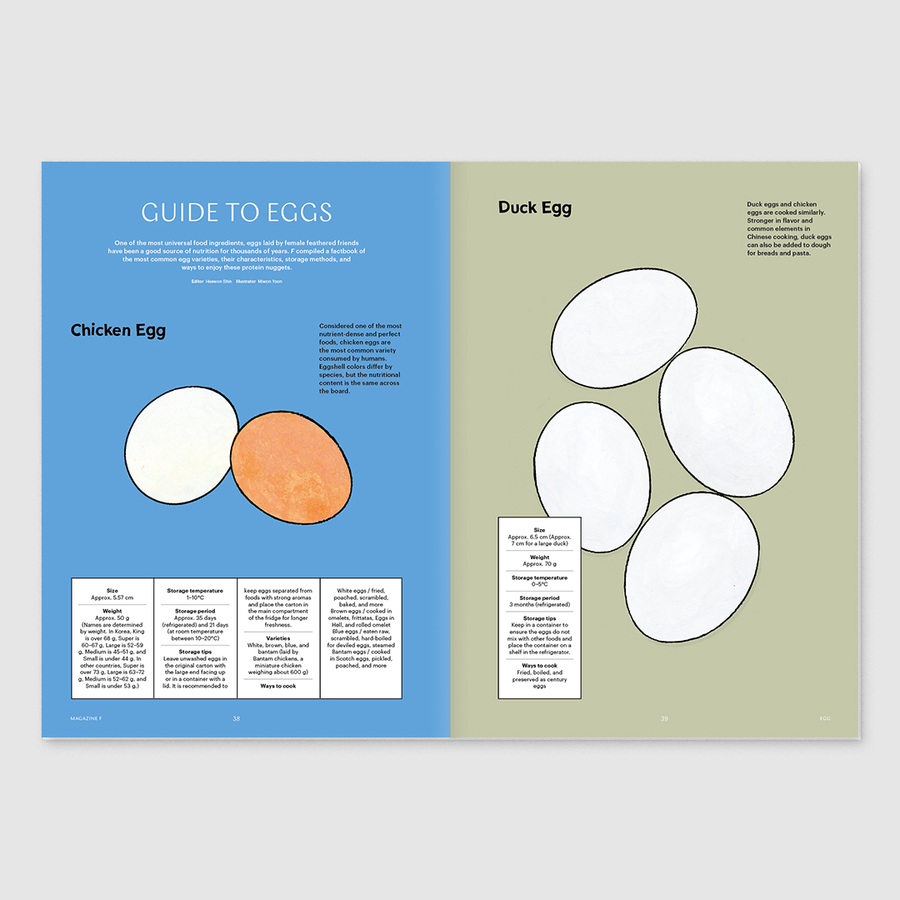 38 – Guide To Eggs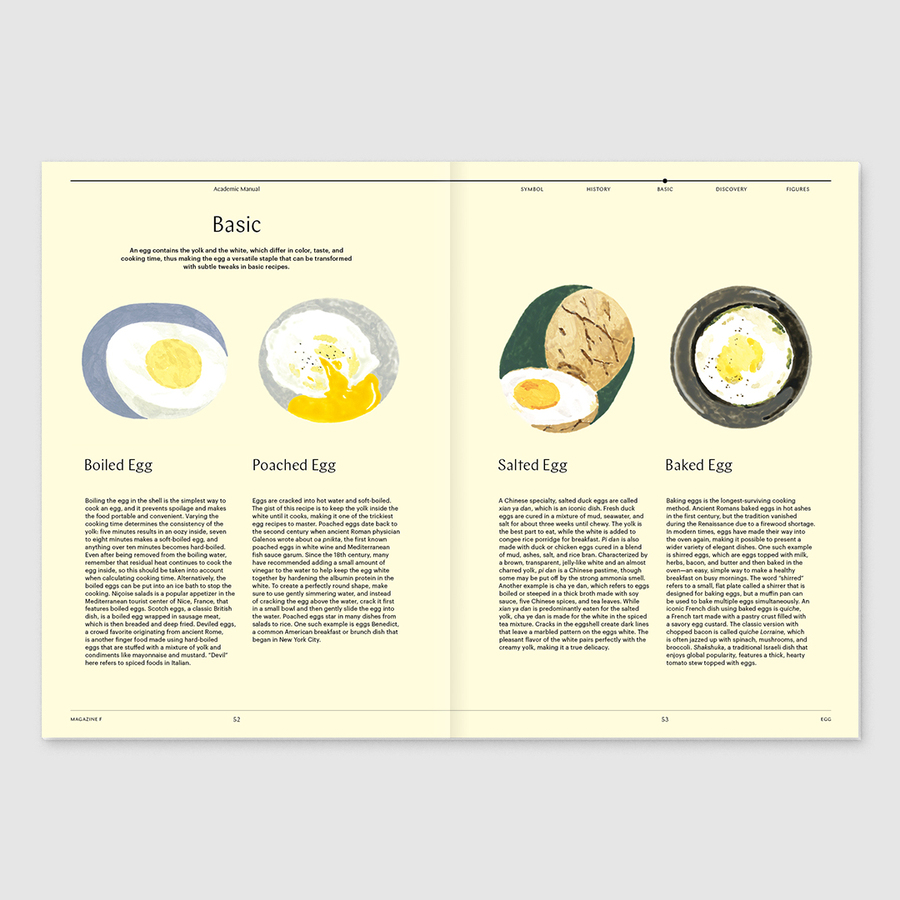 52 – Academic Manual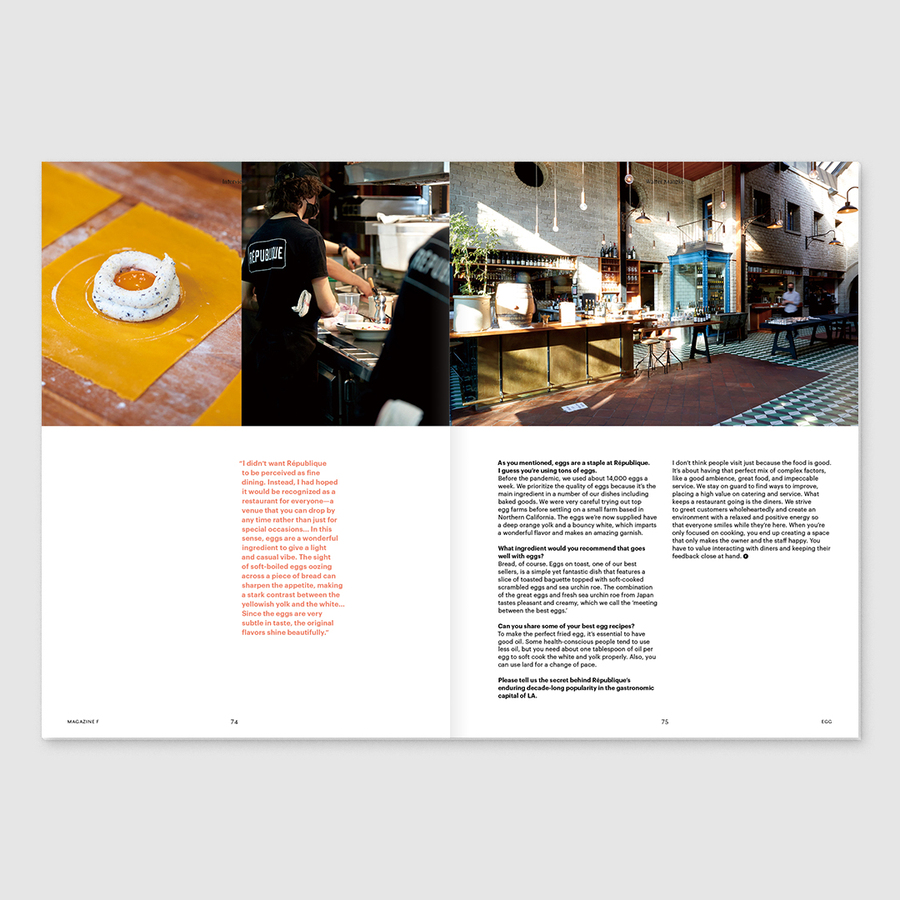 74 – Interview / Walter Manzke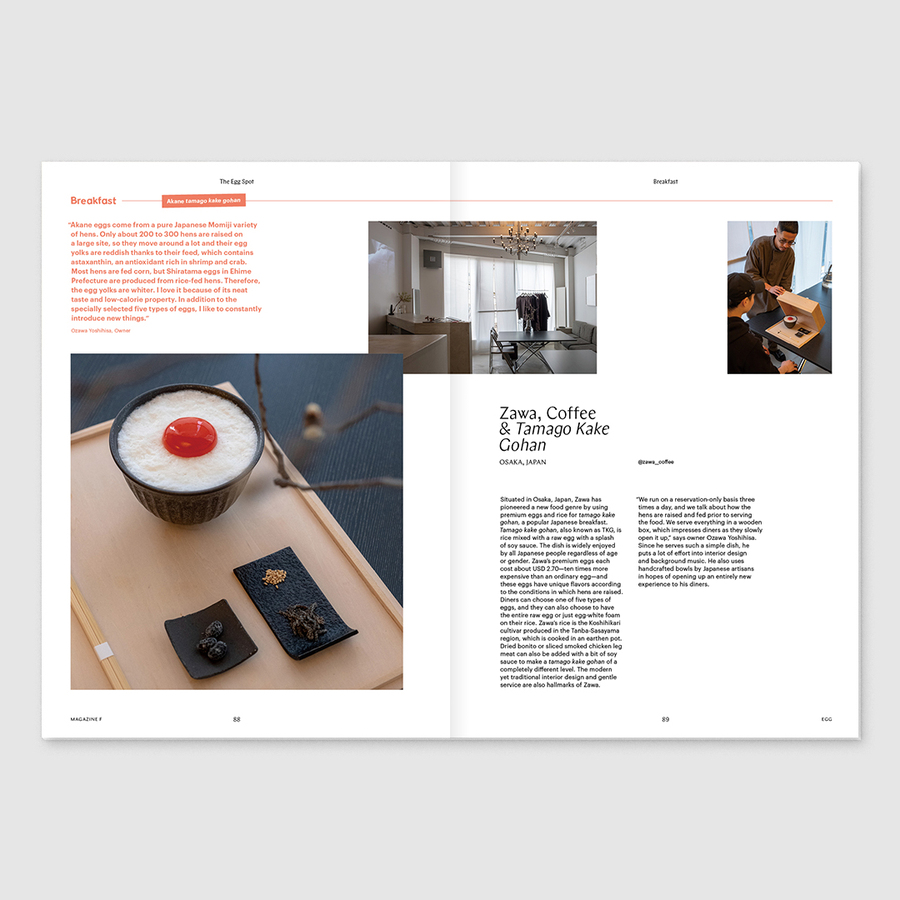 88 – The Egg Spot / Zawa, Coffee & Tamago Kake Gohan

108 – One Good Meal / Becky Okell

122 – Delis & Shops / Node Uehara

132 – Industry