Food Documentary Magazine
Magazine F ****7 ICE CREAM (EN)
Category
Magazine > Culture / Lifestyle
Publisher Baemin, Magazine B | 170 X 240mm, 152 pages
Price KRW 18,000 | ISBN : 979-11-6036-143-8 03070
Date of Publication January 10, 2022 | Editing and Marketing Magazine B
■ About the Publication
Magazine F is a food documentary magazine co-created by Magazine B and Baemin, which introduces one particular ingredient that has had a significant impact on people's table. Baemin has become a critical mover and shaker in South Korean contemporary food culture, and B provides a balanced view on brands through multi-layered stories. This collaboration brings together these two areas of expertise in F, which is hoped to become a record of essential ingredients and food culture of our time.
■ About the Publishers
Baemin
Baemin is a food-tech company, founded in June 2010, by owner Bongjin Kim. With over 3 billion downloads, it is considered Korea's number one delivery app that leads the food delivery industry under the mission of "Good Food Wherever You Want". It now plans to expand its multi food-tech company in creating unique businesses like Baemin Riders, Baemin-Chan, and Baemin-Sanghwe.
Magazine B
Magazine B is an ad-free monthly publication that dedicates each issue to one well-balanced brand unearthed from around the globe. The magazine introduces the brand's hidden stories, as well as its sensibility and culture, and is an easy but also serious read for anyone with an interest in brands.
■ About the Issue
Regardless of age, gender, nationality, or culture, everyone loves ice cream. These cold and creamy treats are often collectively referred to as ice cream, but they are broken down into gelatos, sorbets, or granitas by milk fat content or production method. Milk and other processed dairy products are flavored with toppings, sugar, and additives before being frozen. Thanks to the artisan ice cream market exploding on the American West Coast in the 2010s, ice cream manufacturers can now infuse their personalities into new products with unique flavors or organic ingredients. Recently, ice cream has become central in many branding and promotional strategies, once again claiming its sweet spot in cultures everywhere across the globe.
■ Contents
2 Intro
8 Letter from F
12 Refreshment
Posts that show how people feel about ice cream
16 Messages From Ice Cream
Ice cream brand slogans and flavors that give clues about the variegated ice cream cultures
20 Sweet Dreams
Six ice cream makers talk about how ice cream has changed their lives
46 Academic Manual
Looking into history, tradition, and trends to discover interesting facts about this cold dessert
66 Players
Four US-based pint ice cream brands that are leading the premium ice cream market
72 F Cut
Impressive ice cream moments caught on camera
82 On the Farm
Straus Family Creamery, the first organic creamery in the US, presents a new future of sustainable livestock farming
88 Interview
88 Sam Mason
Cofounder of OddFellows, an ice cream company noted for its creative flavor combinations
96 Matteo Casone
A gelatiere of La Manufacture de Glace that creates ice cream as a gastronomic food
102 Dining Recipe
Ice cream dishes offered by dessert shops and dining restaurants
118 Interview
118 Ben Denzer
An artist who creates visual art using ice cream and books
124 Ice Cream Shops
Ice cream shops with extraordinary branding strategies and goods
136 Tableware
Tableware that adds sweet eye candy to the ice cream experience
138 Market
Ice cream categories that reflect contemporary trends
142 References
Cookbooks for ice cream makers
150 Dictionary
151 Index
10 – Contents
12 - Refreshment
18 – Messages from Ice Cream
26 – Sweat Dreams / Smitten
30 – Sweat Dreams / Wanderlust Creamery
74 – F Cut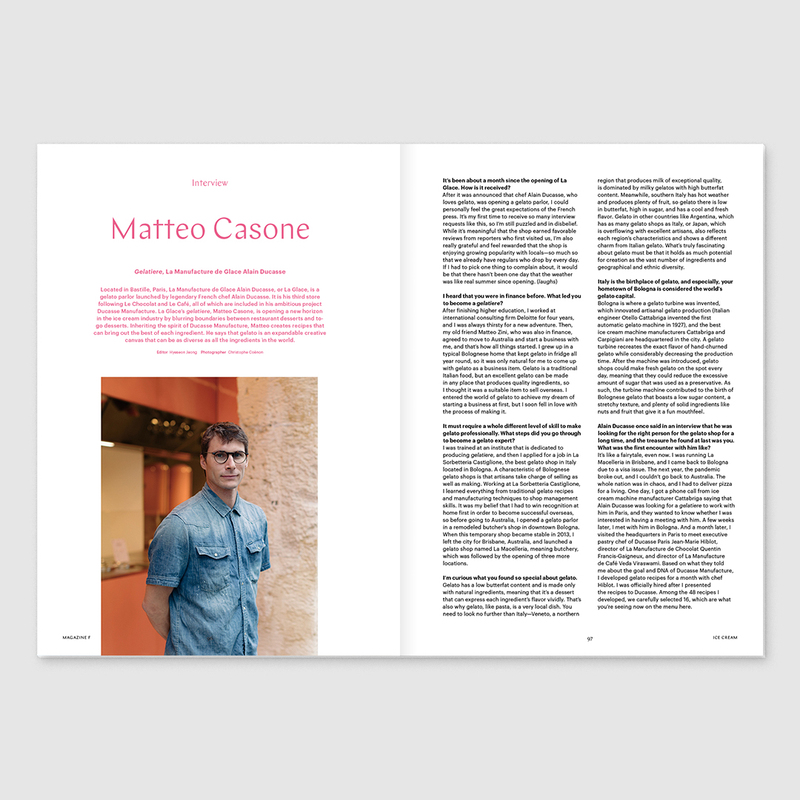 98 – Interview / Matteo Casone
102 – Dining Recipe
120 – Interview / Ben Denzer
126 – Ice Cream Shop / Kith Treats