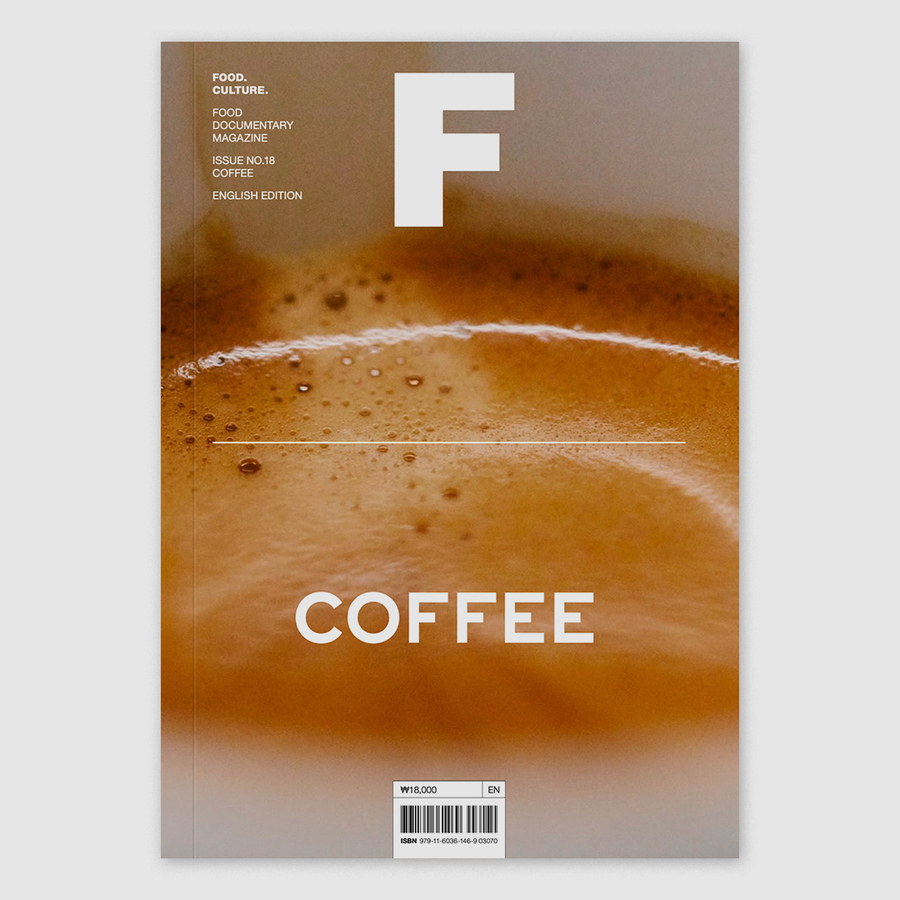 Category
Magazine > Culture / Lifestyle
Publisher Baemin, Magazine B | 170 X 240mm, 160 pages
Price KRW 18,000 | ISBN : 979-11-6036-146-9 03070
Date of Publication February 10, 2022 | Editing and Marketing Magazine B
■ About the Publication
Magazine F is a food documentary magazine co-created by Magazine B and Baemin, which introduces
one particular ingredient that has had a significant impact on people's table. Baemin
has become a critical mover and shaker in South Korean contemporary food culture, and B
provides a balanced view on brands through multi-layered stories. This collaboration brings together these two areas of expertise in F
, which is hoped to become a record of essential ingredients and food culture of our time.
■ About the Publishers
Baemin
Baemin is a food-tech company, founded in June 2010, by owner Bongjin
Kim. With over 3 billion downloads, it is considered Korea's number one delivery app that leads the food delivery industry under the mission of "Good Food Wherever You Want". It now plans to expand its multi food-tech company in creating unique businesses like BaeminRiders, Baemin-Chan, and Baemin-Sanghwe.
Magazine B
Magazine B
is an ad-free monthly publication that dedicates each issue to one well-balanced brand unearthed from around the globe. The magazine introduces the brand's hidden stories, as well as its sensibility and culture, and is an easy but also serious read for anyone with an interest in brands.
■ About the Issue
For ages, people around the world have loved coffee, a beverage on which countless cultures have been built in a host of metropolises and countries. Each coffee variety responds to terroir and production conditions, and like fashion, these nuances have become indicators of individual preferences and tastes of coffee lovers. Before the green beans nestled inside the coffee cherries can be served up as hot beverages, they must pass through the hands of farmers, roasters, and baristas, who comprise an industry valued at over USD 100 billion worldwide. Also, like a symbol of exchange between societies and communities, coffee culture wields enormous influence on lifestyle and adjacent industries. Today, great coffee experiences are being redefined by the movement to produce and consume coffee in a sustainable way as well as fair trade, which secures proper price points for coffee products.
■ Contents
2 Intro
8 Letter from F
12 Behind the Scenes
Key players in the coffee industry and their roles
14 Nordic Coffee Scene
The present and future of Nordic specialty coffees
40 Academic Manual
Everything about coffee, from history to culture and from class to trends
58 Coffee Encyclopedia
Coffee guide that covers coffee bean types and roasting practices
62 Interview
62 Tim Wendelboe
Founder of Tim Wendelboe Coffee and icon in the Scandinavian coffee scene
68 Geoff Watts
Vice president of Intelligentsia Coffee and credited with introducing direct trade
74 New Paradigm
Cafés committed to bringing the quintessence of coffee to life
90 F Cut
Sophisticated branding displayed in packaging
98 Coffee Table
Coffee to round out a perfect meal
110 Home Brewers
Four brewing enthusiasts who are forging their own coffee worlds
118 Interview
118 Masashi Goto
Founder of Typica, an innovative directtrade online platform for green coffee beans
122 Cafe Society
A list of up-and-coming cafés in major cities
136 Festival
Global coffee festivals, including the Café Show Seoul
142 Coffee Mates
Groundbreaking tools and equipment that shifted trends of the coffee market
146 Market
A wide variety of ready-to-drink coffee products
150 References
Books and video clips recommended by coffee experts
158 Dictionary
159 Index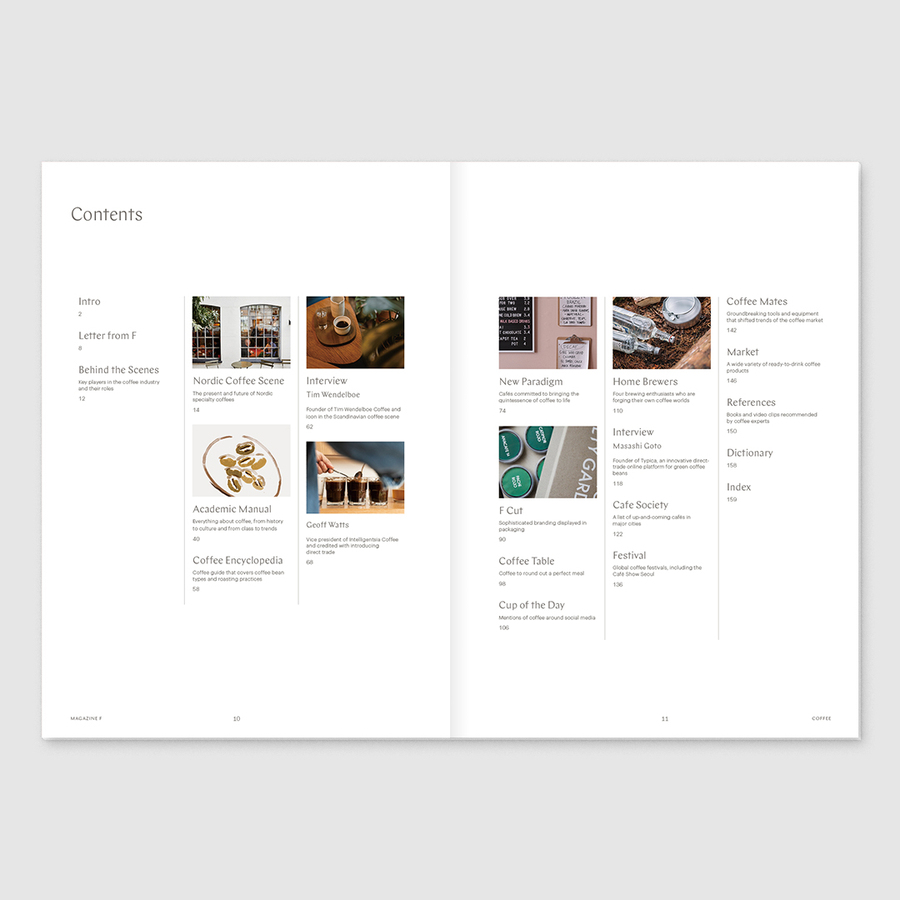 10 – Contents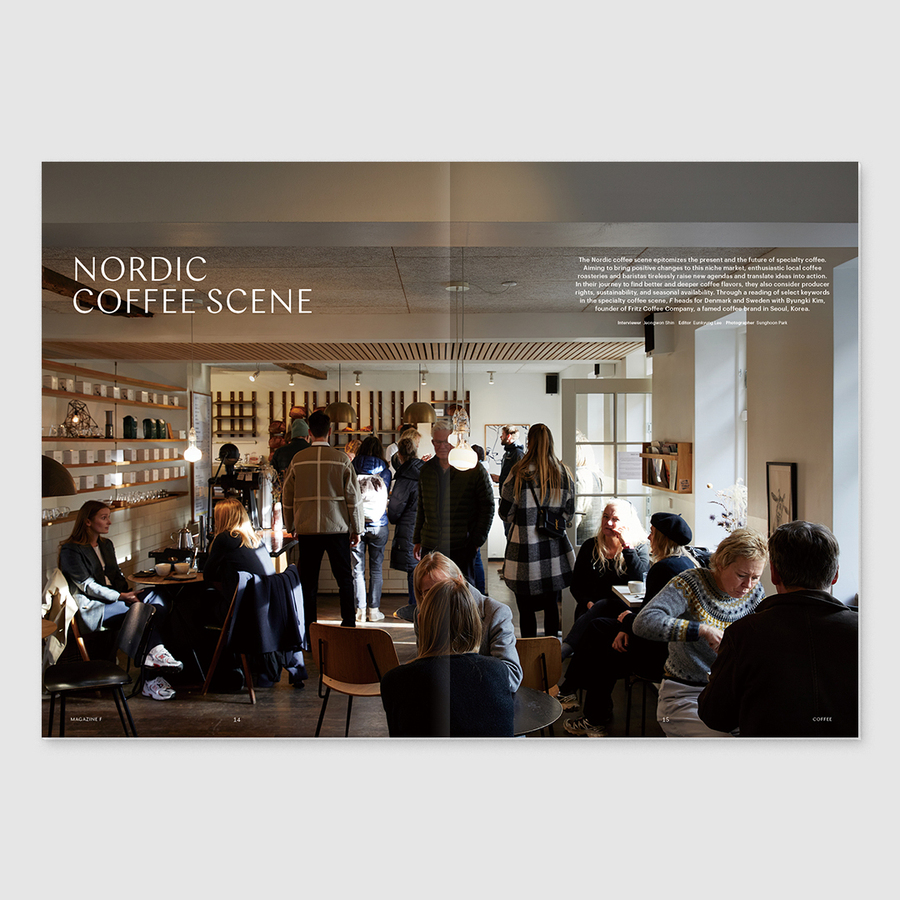 14 – Nordic Coffee Scene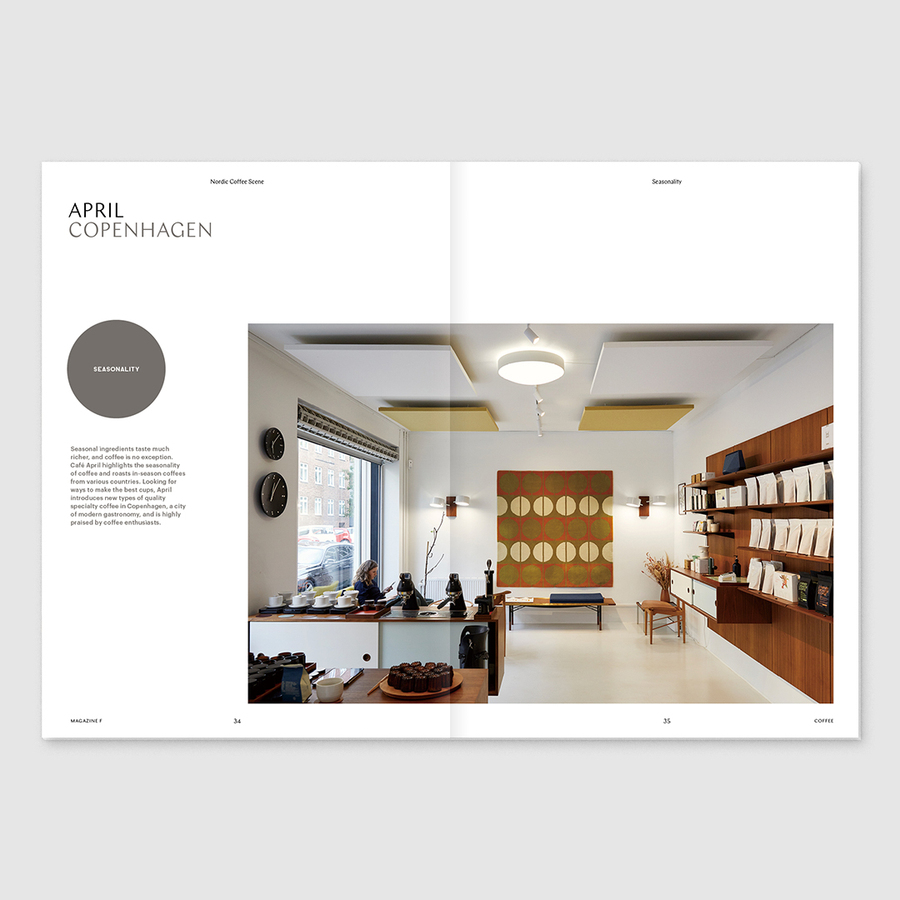 34 - Nordic Coffee Scene / April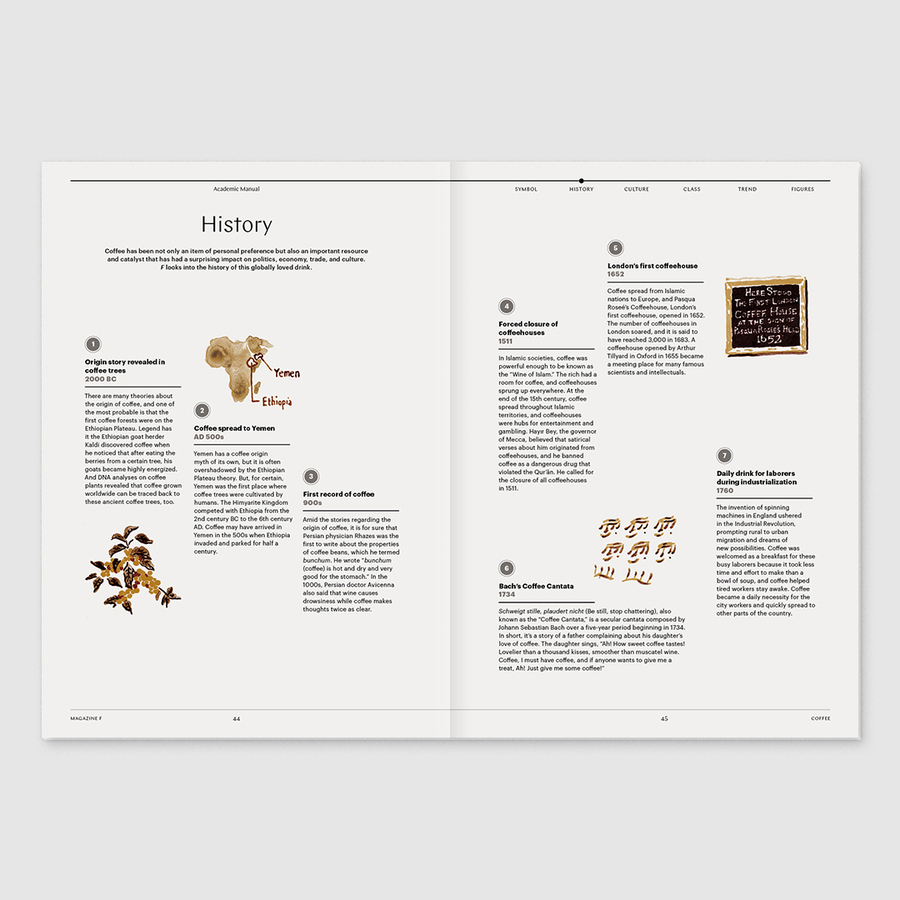 44 - History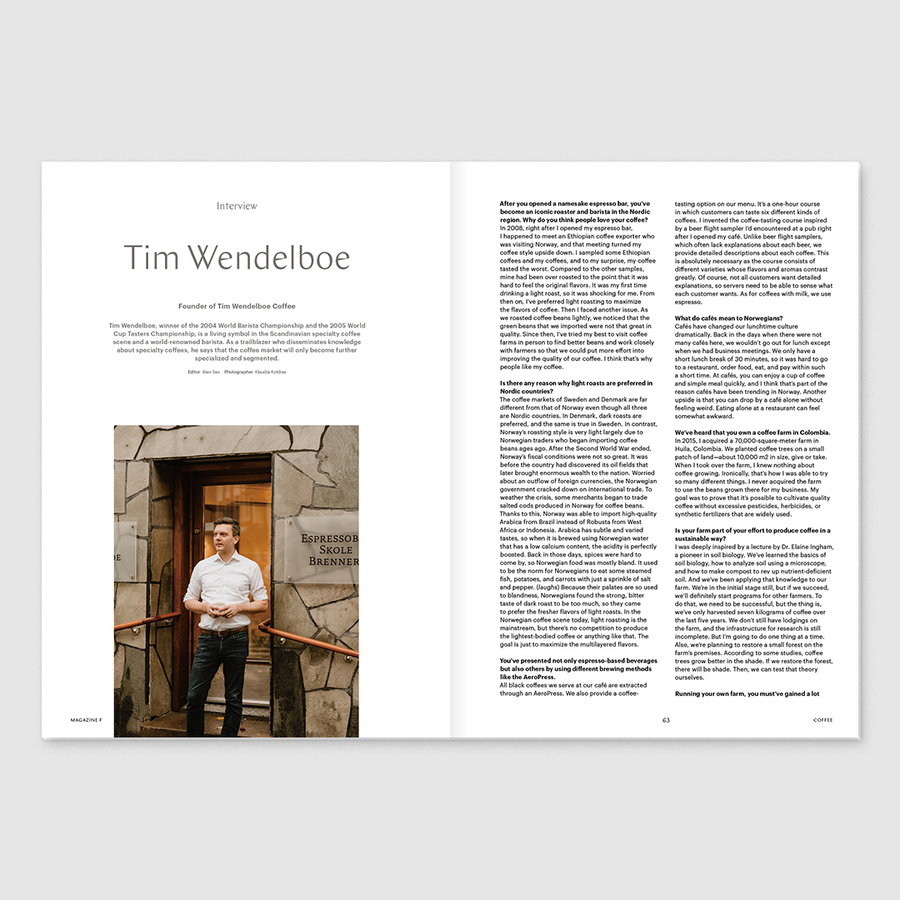 62 – Interview / Tim Wendelboe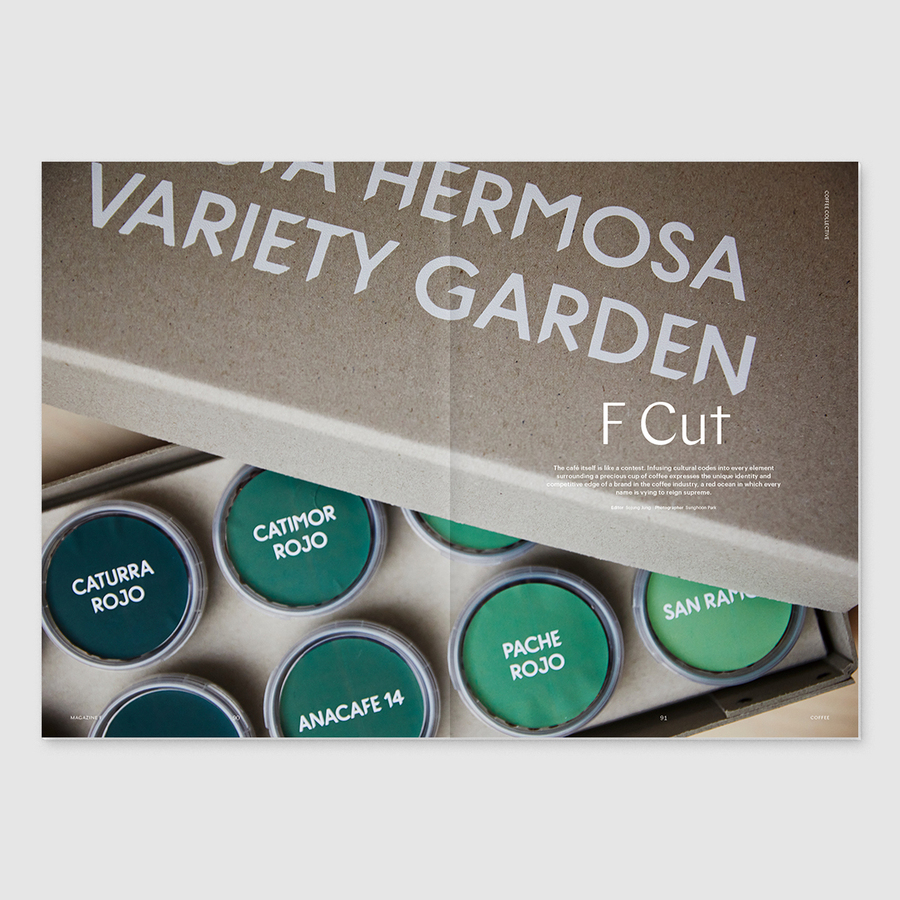 90 – F Cut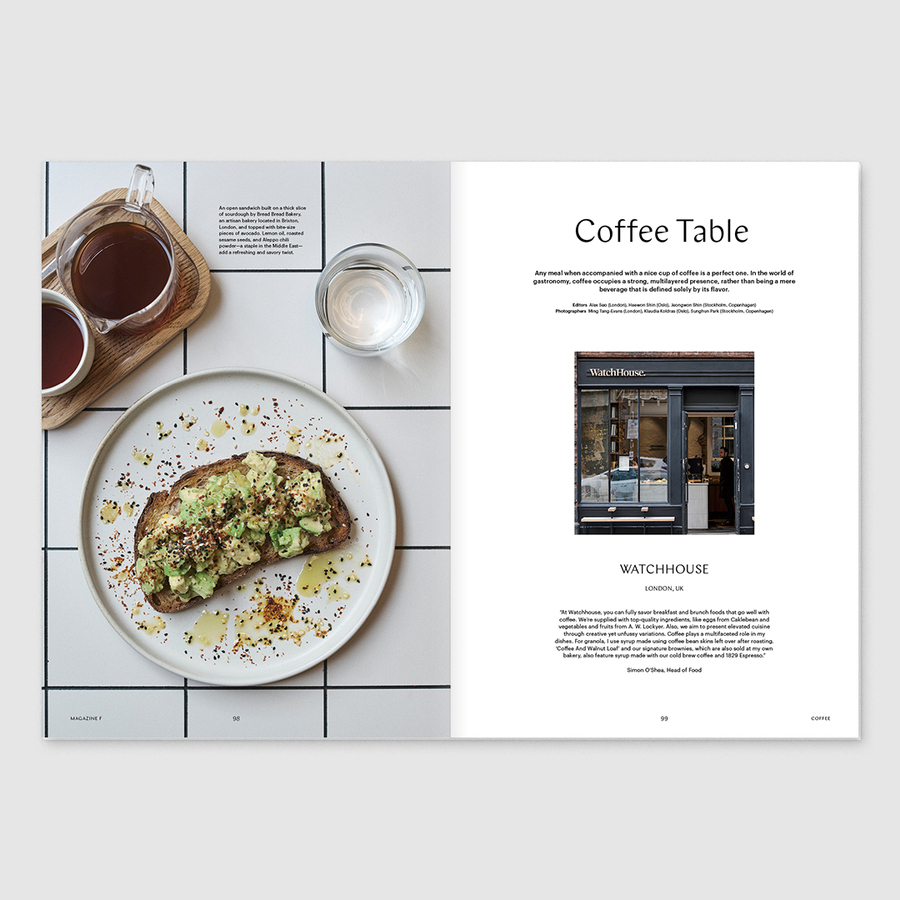 98 – Coffee Table

110 – Home Brewers

122 – Café Society

138 - Festival