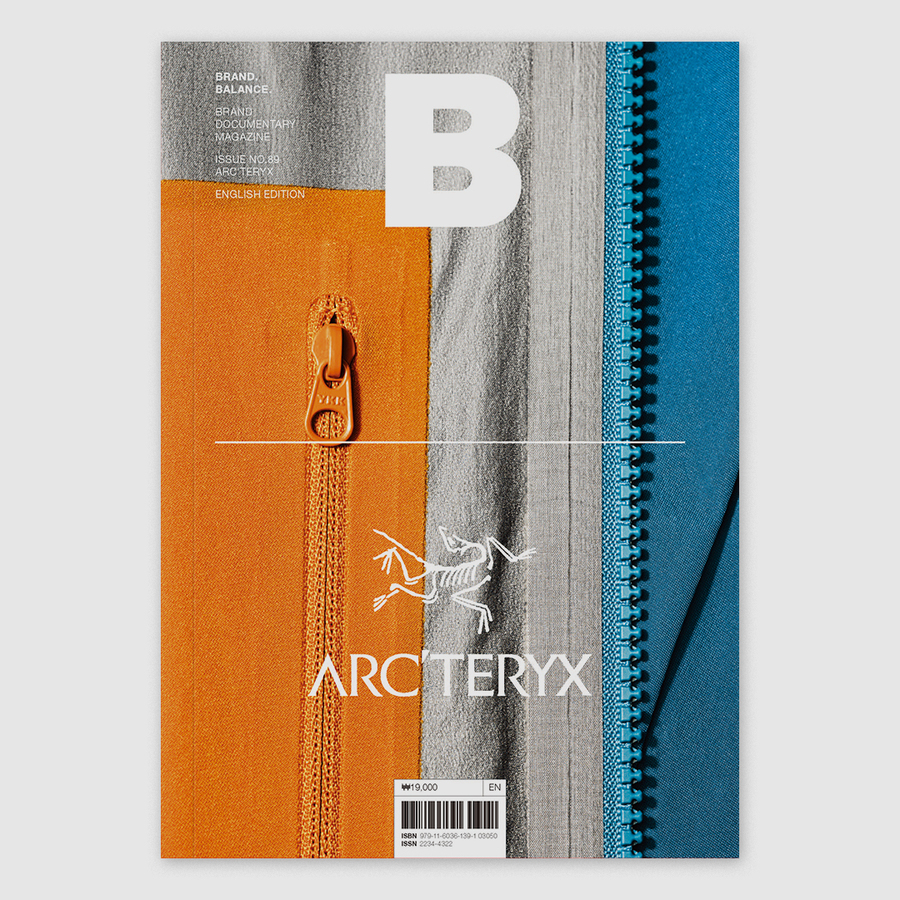 Category
Magazine
Publisher B Media Company | 170 X 240mm, 159 pages
Price KRW 19,000 | ISBN: 979-11-6036-139-1 (03050)
Date of Publication Feb 22, 2022
Editing and Marketing B Media Company
■ About the Publication
Magazine B is an ad-free monthly publication that dedicates each issue to one well-balanced brand unearthed from around the globe. The magazine introduces the brand's hidden stories, as well as its sensibility and culture, and is an easy but also serious read for anyone with an interest in brands.
■ About the Issue
Welcome to the 89th issue of B.
In November 2011, B published its first issue. I'm not the type of person who puts a lot of weight on numbers, but while we were getting ready for our tenyear anniversary events last year, I daydreamed often about the significance of the past ten years. It all started when I was handed B's Freitag issue a decade ago. Back then, I was working as an editor at another magazine company, feeling pretty tired of the infinite cycle of deadlines. I was always up on the news, meeting new people from all walks of life, but I lost motivation and didn't know what I had to write for. B's format covers only one brand throughout the entire issue, and that struck me as refreshing. I was lucky to join the editorial team of B from the fourth issue, and more luckily, I'm here now celebrating the magazine's tenth anniversary.
Anyone who looks closely can see how tiring bookmaking is. We always feel forced to surrender to time as its finiteness runs diametrically opposed to our pursuit of perfection. But, sure, this may be true in all fields. Despite it all, there are some "shining moments." Not everything in the world of a particular brand is flattering, but from time to time, I'm surprised by a pure energy in one. I'll be mesmerized by a remark made by a brand's founder, the hospitality of a store clerk, the perfect system of a manufacturing facility, or the passion of an artisan. We've uncovered some fascinating aspects of many brands over the last ten years. And our growing readership is clear evidence that today's brands are more than just businesses.
As we looked into Arc'teryx, a Canadian outdoor label, we felt that thrill again. We felt the brand's high aspirations from how sincerely committed they are to performance and quality. They already have hundreds of well-made original products, but they continue to question, research, and experiment to make even the slightest of improvements. It's not just their designers, engineers, and managers working toward this; all the partners they work with are 100 percent committed to this common goal. Dan Green, a key figure behind the brand's countless innovations for the past 21 years, says, "If we discover an extraordinary fabric and make some improvements, many people on the streets will not notice the difference. For us, however, the best thing is making good products." They are indifferent to all but substance, and their attitude is reflected in their products. That's why people who've ever used Arc'teryx products like the Alpha SV jacket say nothing more than: "Just try it on."
These minute improvements Arc'teryx has made have many implications for other brands. Without respect for the prototype, making a product greater and better is an impossible task. After producing nearly 90 issues of B, we have become sensitive to brand origin stories. Perhaps the brand is all about that moment when one person's great idea comes into existence after overcoming countless obstacles and cynicism. The force that pushes a brand past all these roadblocks can be called its DNA, and we want to tend that spirit as much as possible. So, in celebration of B's tenth anniversary, we look back to the beginning.
Eunsung Park
Content & Editorial Director
■ Table of contents
02 INTRO
08 EDITOR'S LETTER
12 VIEWS
Aesthetics of Arc'teryx in retail spaces
20 OPINION: ERANG SONG, GEUNSIK PARK
Worksout store manager Eran Song and designer Geunsik Park talk about the distinct value of Arc'teryx in the market
26 LAYERING
The unique vibe of Arc'teryx users working in various fields
36 OTHER BRANDS
Items from other brands that echo Arc'teryx
40 OPINION: DAN GREEN
The Arc'teryx senior director of Advanced Concepts says the secret to making the best product is embracing trial and error
46 ARC'ONE
Arc'teryx Vancouver factory serves as a test bed for the brand's products
54 LABORATORY
Manager Bill Burke gives a tour of the Arc'teryx R&D lab with a few demonstrations
62 TECHNOLOGY
Simple experiments prove Arc'teryx's technological prowess in waterproofing, windproofing, reducing weight, and heat retention
70 TESTS AND TRIALS
A space of possibilities where designers start creative experiments
76 PRODUCT GUIDE
Categorized as techwear, Arc'teryx products run the full gamut
84 ICONS
GORE-TEX, a core material used in outerwear and outdoor apparel, reveals the true value of Arc'teryx
90 STORE
The Arc'teryx philosophy as reflected in its Vancouver and New York outposts
96 OPINION: TAKA KASUGA
Creative Director of Statement Taka Kasuga leads the brand's creative path through Veilance and System_A
102 NEW WAYS
Charting the evolution of Arc'teryx and new directions for outdoor wear
110 INTERACTION
Artists share inspiration with Arc'teryx around the theme of sustainability
118 BRAND STORY
Arc'teryx: How it grows and sets technological standards for hiking clothing brands
124 INSPIRE
The Coast Ranges, a huge motivator for Arc'teryx
128 INTERVIEW: KARL AAKER, KATIE BECKER
The direction and vision of Arc'teryx from VP of Brand Marketing Karl Aaker and Chief Creative Officer Katie Becker
134 CLIMBING
The frontier spirit of Arc'teryx that resembles climbers trailblazing through uncharted nature
138 SUSTAINABILITY
A brand that moves with nature—and its CSR principles
142 SOCIETY
Communities at home and abroad that embody the spirit of Arc'teryx
146 DIGEST
Numbers representing Arc'teryx and the cultures surrounding the brand
151 OUTRO
■ Content Images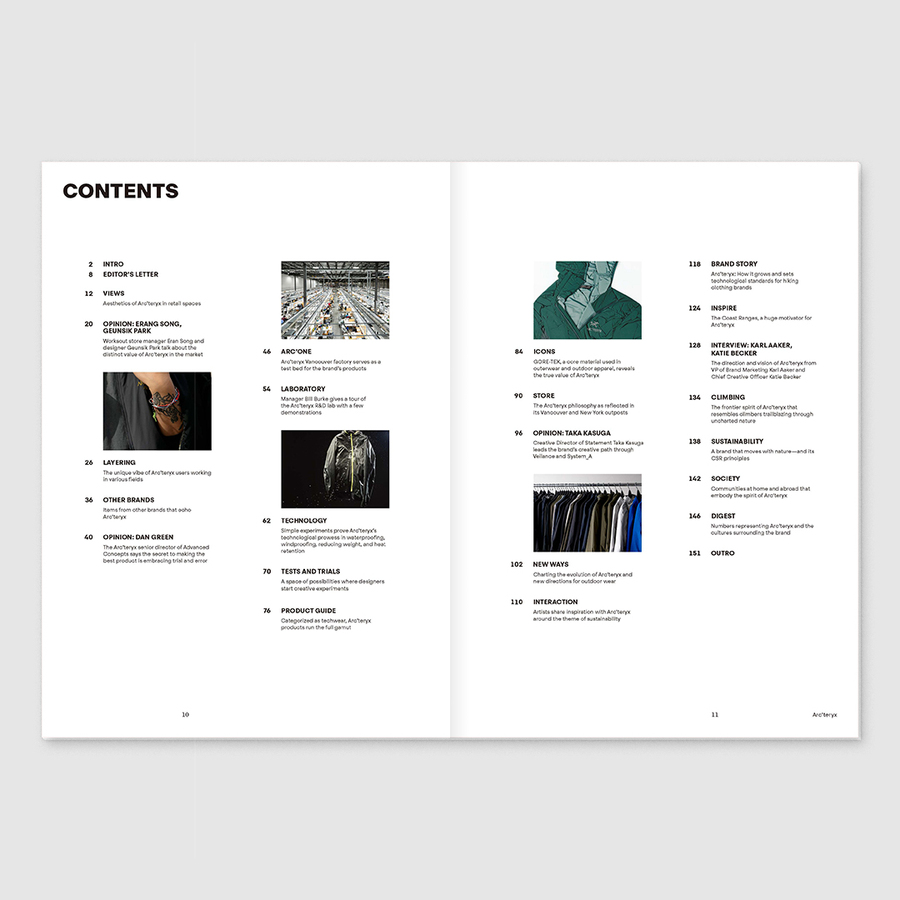 10p – Contents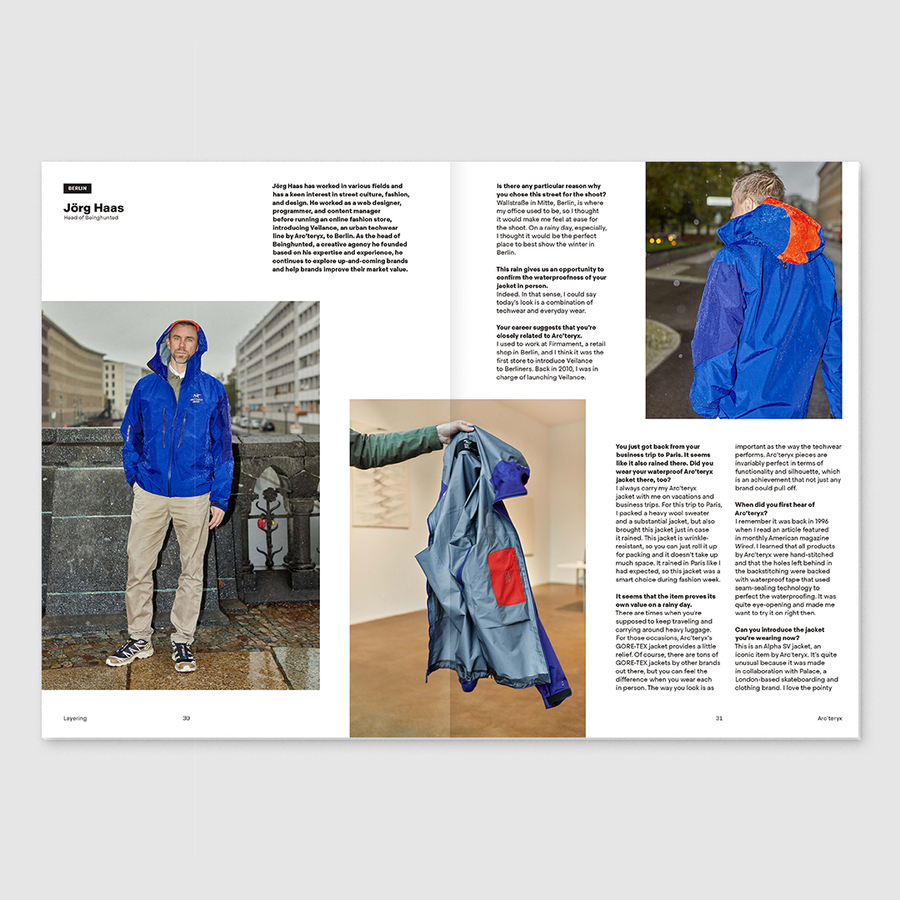 30p - Layering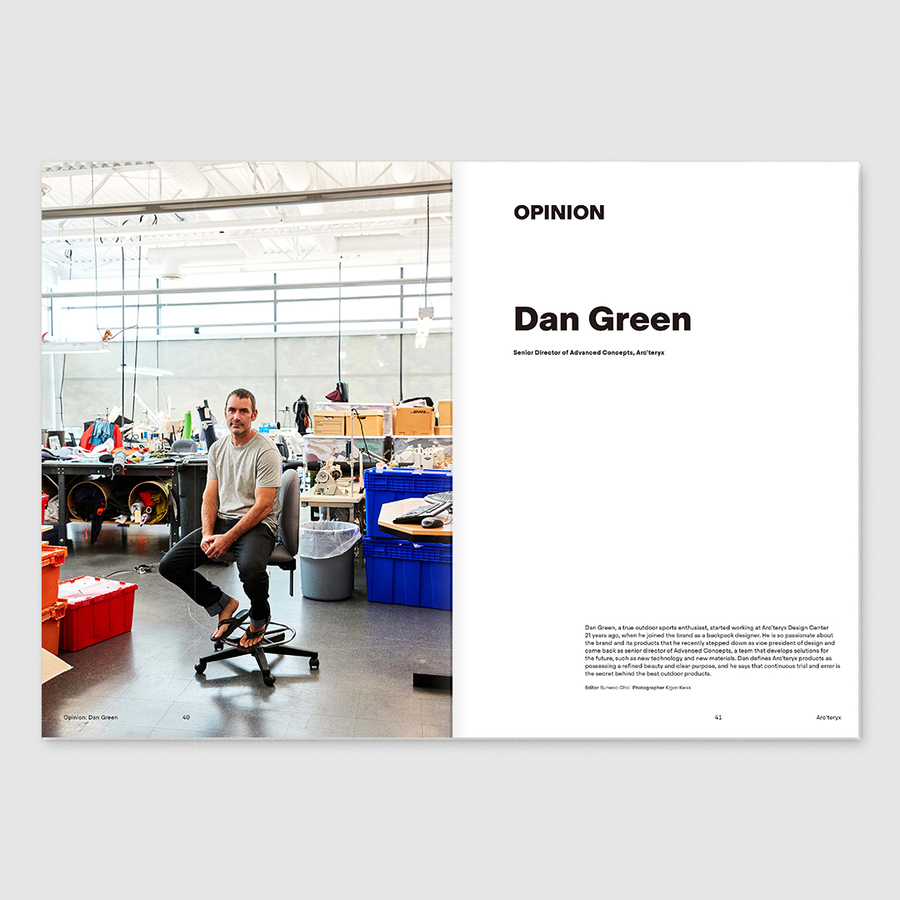 40p – Opinion / Dan Green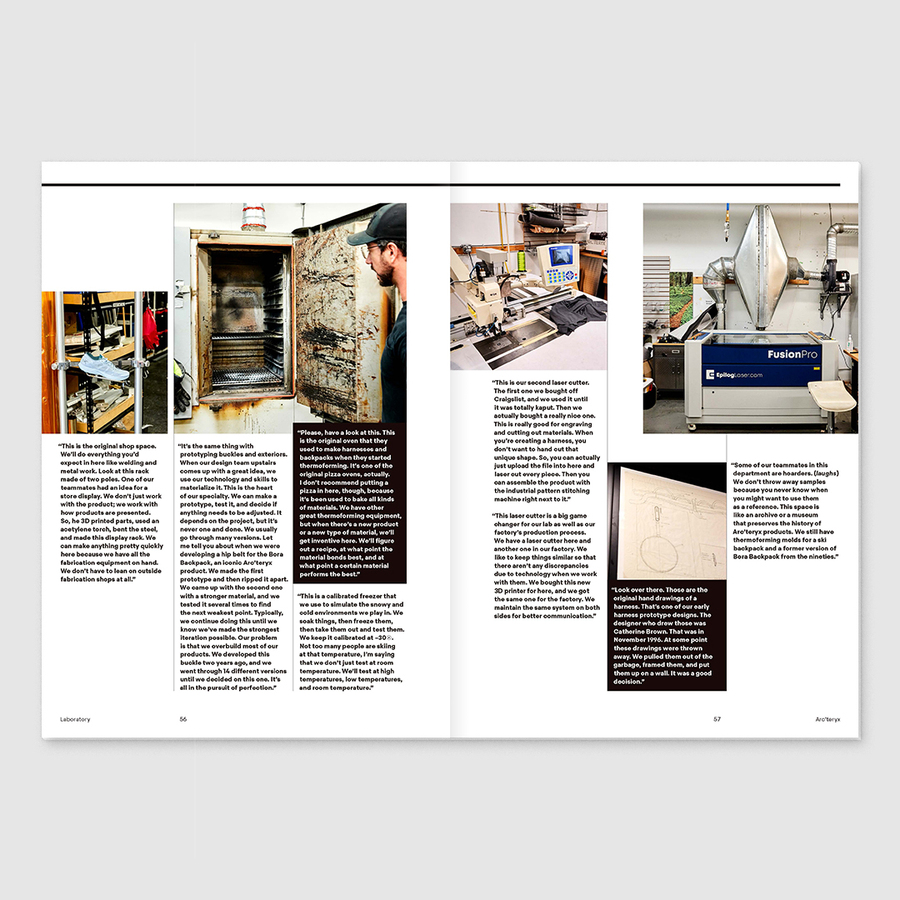 56p - Labratory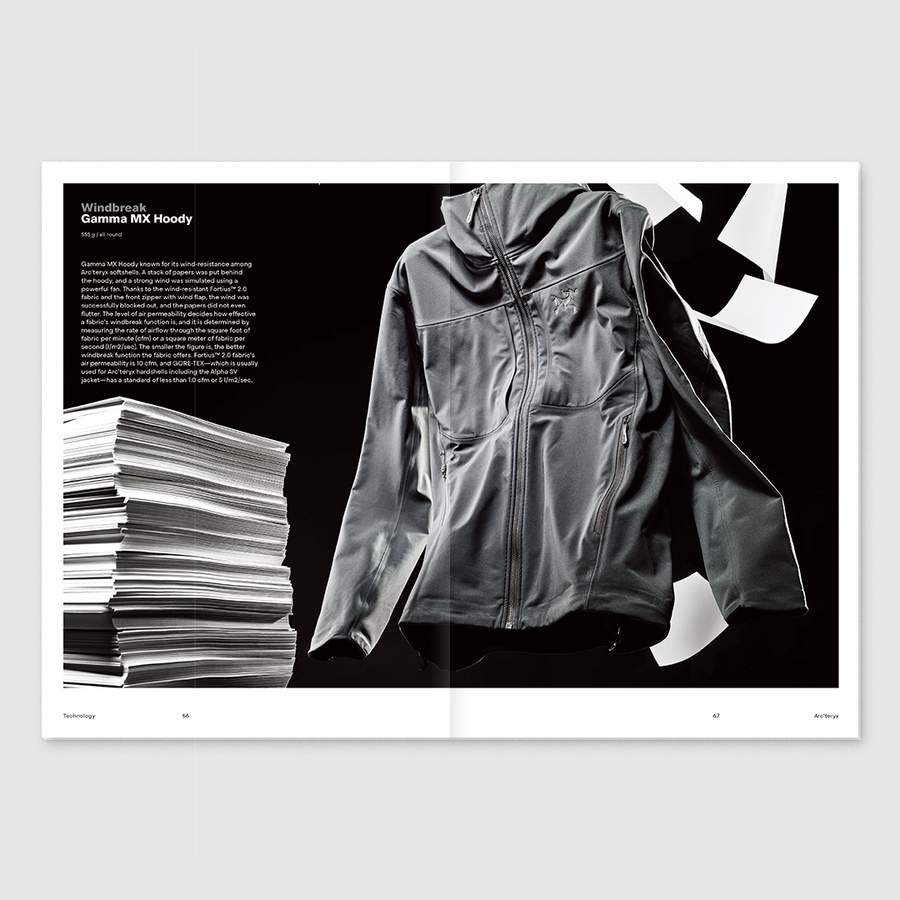 66p - Technology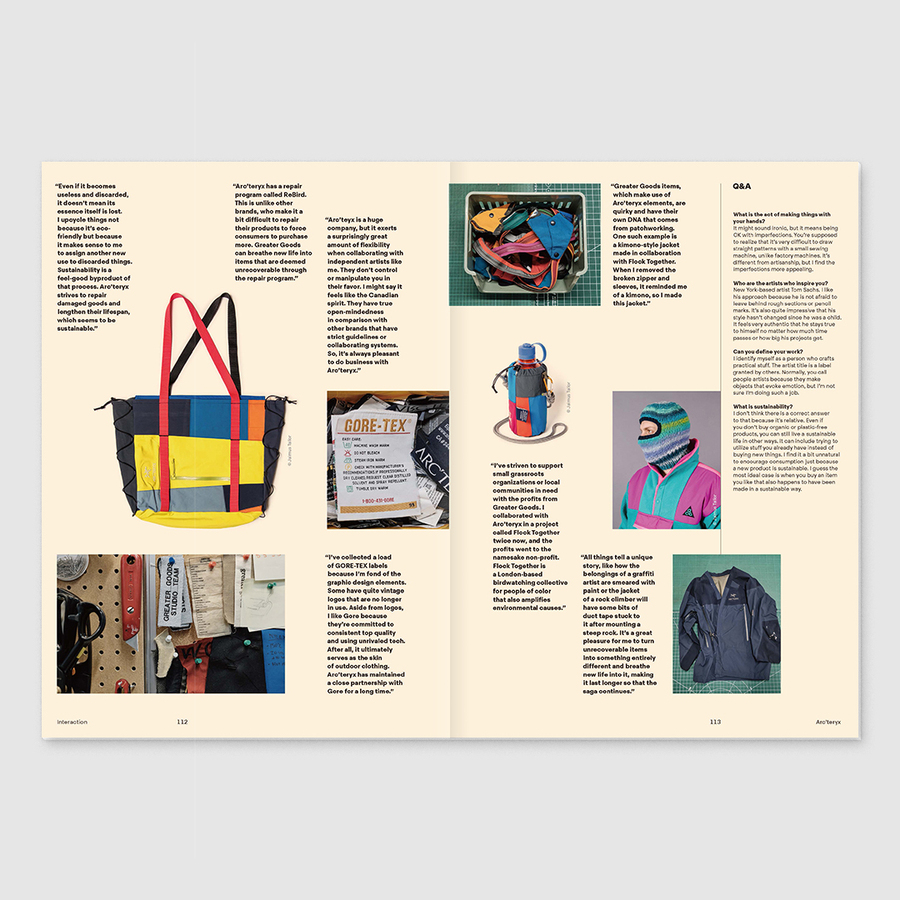 112p – Interaction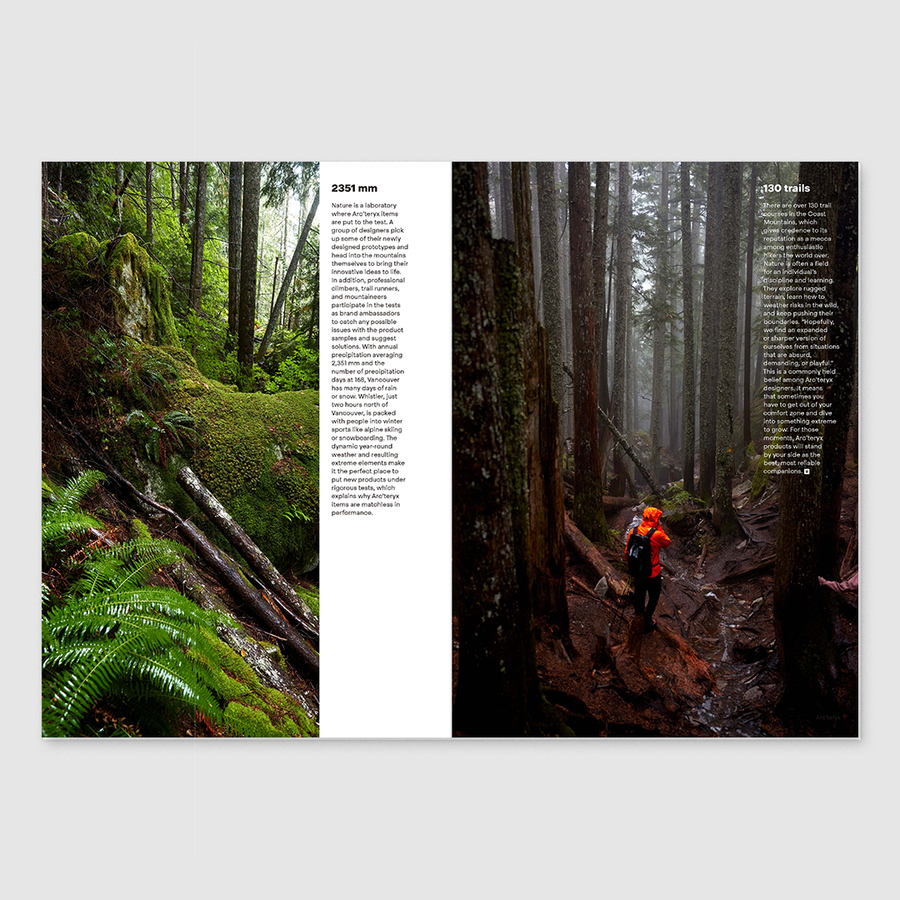 126p - Inspire

134p - Climbing

142p – Society

150p - Digest