Brand Documentary Magazine
Magazine B No.93 The Balvenie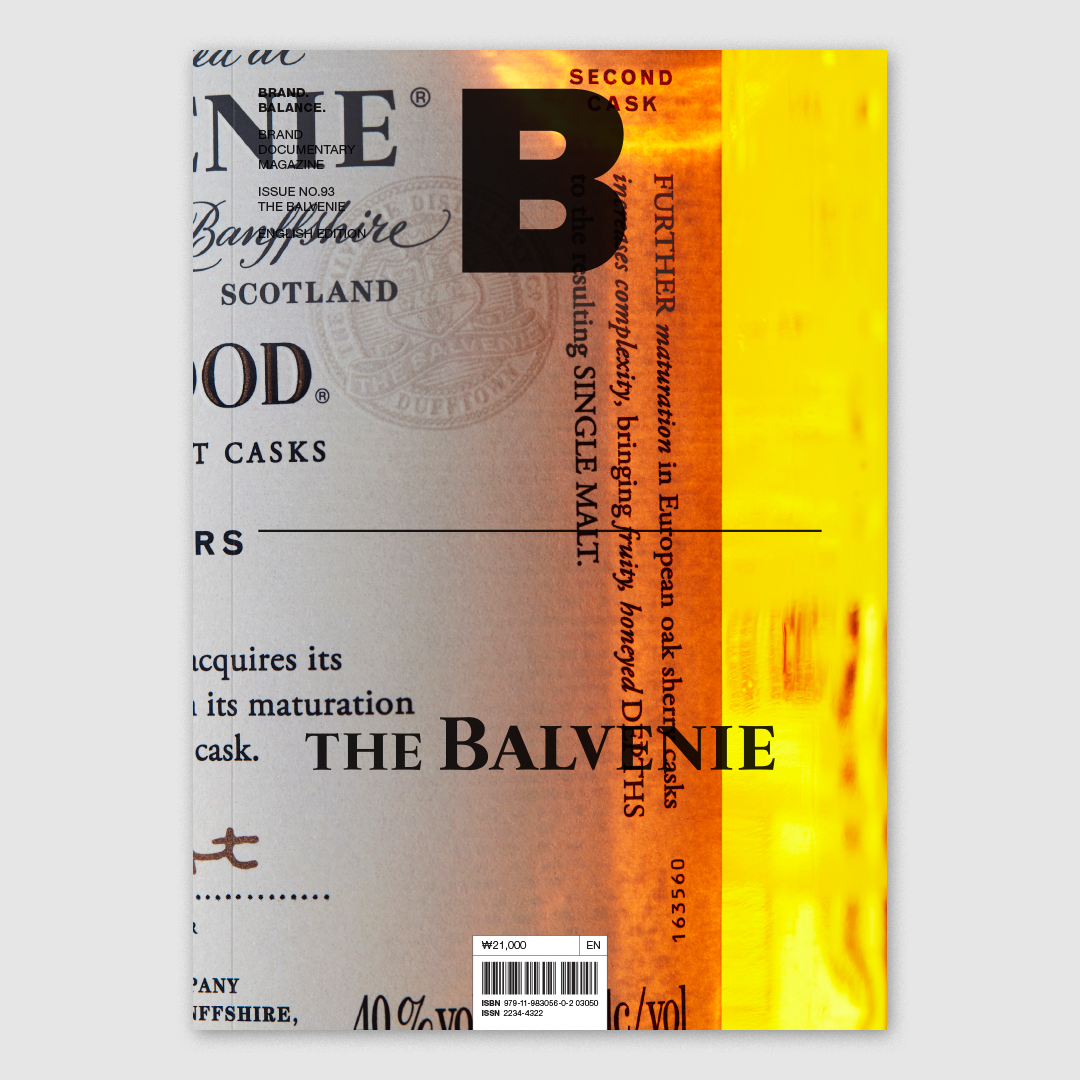 Category
Magazine
Publisher B Media Company | 170 X 240mm, 160 pages
Price KRW 21,000 | ISBN: 979-11-983056-0-2 (03050)
Date of Publication May 31, 2023
Editing and Marketing B Media Company
■ About the Publication
Amid the waves of numerous brands sweeping the globe, B shares
its perspective on well-balanced brands and uses print media to demonstrate the timeless values of individual brands. Defining a well- balanced brand by four standards—beauty, practicality, price, and philosophy—B offers unique insights and in-depth analysis of one well- balanced brand in one issue every month.
■ About the Issue
Welcome to the 93rd issue of B.
I have traveled overseas twice—once last year and again this year—since the pandemic began. Despite media reports that the tourism industry had returned to normal, there still seemed to be some remnants of the nearly two-year travel ban. Tons of restaurants, stores, and convenience facilities that line the entrances and exits of airports were still closed or operating at super scaled-back levels. And the duty-free shop did not have that same bustling, chaotic mood it used to have. Still, there was one spot swarming with travelers: the whisky corner. A man was seen carefully picking out just the right one while talking on the phone, and some other families were busy doing mental math to calculate the duty-free allowance for liquor. Apparently, whisky has long been a popular item, but the recent craze feels more like people are buying up stable assets with a guaranteed value. Not only are whiskies valued as an investment, they are also fun to select and a perfect product to leisurely indulge in. Another charm of the spirit is its relatively low entry barrier compared to other investment pieces, like watches, furniture, and art.
A closer inspection into whisky within the liquor industry reveals its distinctive value. Whisky, I gather, is an alcohol that best epitomizes different aspects of a particular brand. The whisky-making process is so complex and rigorous that it takes vast amounts of upfront investment costs and a level of expertise that matches the investment. But understanding that quality comes in proportion to time, all this has made whisky a rare, highly prized item. Furthermore, it can be enjoyed fully without food, making it an object of absolute assessment, if you will. So while beer and wine may outshine whisky in terms of popularity, you might say that whisky has the advantage when it comes to brand recognition and exclusivity—the ultimate goal of so many brands out there.
Scotland, the birthplace of Scotch whisky, is home to whisky distilleries that function almost like tribes. Each distillery has a time-honored tradition of about 100 years as well as their own birth stories, with the people who have been committed to whisky making for decades sitting at the heart of these stories.
The Balvenie, the single malt whisky brand B presents in this issue, has continued its family business in Speyside, Scotland, since 1892. The Balvenie ceaselessly endeavors to achieve a quality that is second to none through experimentation, rather than just settling to inherit the legacy of whisky. And that is how the brand gained its coveted prominence among the so-called whisky tribes. The brand's unique maturation technique, which has had an enormous impact not only on Scotch whiskies but also on the entire spirits industry, is epitome of this forward- looking spirit. Furthermore, the entire production process from growing its own barley to bottling is all conducted in-house, which seems to emphasize R&D more than preserving tradition. In a sense, The Balvenie's enthusiasm for experimentation is a far cry from strategic business acumen to gain immediate recognition for its value.
An array of casks lying about in a warehouse, brimming with whisky that had been ripening since the early 1960s. A malt master who worked his way up after a 10-year apprenticeship. Limited-edition compendiums that take five years to complete. All of these achievements are the result of The Balvenie's reliance on patience as a driving force, rather than impatience. The balvenie's legendary malt master David C. Stewart described the whisky maturation process that he's devoted more than 60 years to as a "complex and not fully understood area." While business acumen refers to the ability to control any change or variable, it wouldn't be an exaggeration to say that the attitude of a whisky master who consider mistakes or errors as new clues through patience resembles pure academia. It makes me all the more curious about this quiet yet profound universe in which a legion of creators strive to make time work in their favor.
Eunsung Park
Content & Editorial Director
■ Table of contents
02 INTRO
08 EDITOR'S LETTER
12 KEYWORDS
The Balvenie's philosophy as portrayed in media coverage
16 SPEYSIDE
The region that The Balvenie calls home
22 THE BALVENIE DISTILLERY
The epicenter where the Scottish whisky brand's nearly 130-year history began
26 FROM CRAFT TO BALVENIE
The Balvenie's craftspeople who are committed to the brand's legacy of crafting top-quality whisky
48 INTERVIEW: DAVID C. STEWART & KELSEY MCKECHNIE
The Balvenie malt masters, who are responsible for quality and taste control
54 CHARACTERISTICS
The Balvenie's whisky lineup that expresses a storied experience and immense know-how along with a singular design language
62 OPINION: STEPH MURRAY
Steph Murry, general manager at The Dowans Hotel, talks about the local whisky community in Speyside
68 SPEYSIDE'S MANNER
Bar culture in Speyside, the birthplace of single malts
76 COEXIST IN MARKET
Diversity in the Scotch whisky market that spawns from micro-distinction during whisky making
84 BAR SPIRITS
Bar scenes in Seoul, Saitama, London, and New York that present whisky cocktails in their own distinctive ways
96 MANUALS
The basics of whisky
100 OPINION: HAEIN JUNG
Korean actor Haein Jung talks about charms of whisky and The Balvenie
106 MY TASTE PAIRING
Whisky parings that reflect the taste of the drinker—from scents to artworks
116 JUST MY SPIRIT
Diverse manifestations of whisky subcultures, such as collecting, sharing, and blending
120 THE ELEMENTS
The five basic factors for whisky making
130 BRAND STORY
The growth story of The Balvenie, which has pioneered in the market with its traditional batch production process and experimental spirit
136 INTERVIEW: ALICE MCSHERRY, GEMMA PORTER
The Balvenie's global marketing manager Alice Mcsherry and global brand ambassador Gemma Porter talk about the brand's internal and external culture
140 SHIFT IN GENERATIONS
Three next-generation employees expected to make history for The Balvenie
144 ART OF CRAFT
The Balvenie's art projects that distill the brand's artisanal spirit
148 DIGEST
Figures that demonstrate the prominence of The Balvenie and its parent company William Grant & Sons in the Scotch whisky industry
151 OUTRO
■ Content Images