Brand Documentary Magazine
Magazine
B
No.95 Spotify

Category
Magazine
Publisher
B Media Company | 170 X
240mm, 152 pages
Price KRW 21,000 | ISBN: 979-11-983056-6-4 (03050)
Date of Publication
September 13, 2023
Editing and Marketing
B Media Company
■
About the Publication
Amid the waves of numerous brands sweeping the globe,
B
shares
its perspective on well-balanced brands and uses print media to demonstrate the timeless values of individual brands. Defining a well- balanced brand by four standards—beauty, practicality, price, and philosophy—
B
offers unique insights and in-depth analysis of one well- balanced brand in one issue every month.
■
About the Issue
Welcome to the 95th issue of
B
.
Before writing the Editor's Letter for this issue,
I assessed my streaming service subscriptions. I use four audio apps, including radio, and seven video platforms, some for sports. To truly capitalize on these services, I'd practically need to maintain a constant stream of content, save for work and sleep hours. Nevertheless, music often blends into multitasking, allowing for continuous streaming throughout the day. Nowadays, videos are consumed in a manner akin to audio content. With the surging popularity of wireless earphones, an array of sounds perpetually resonates in everyone's ears. Whether you're deeply engrossed in this auditory landscape or not—essentially, the level of concentration—is somewhat secondary. Daniel Ek, the founder of Spotify, would most likely agree with this. Music, or more broadly speaking, audio content, becomes a background for all moments in life. Indeed, he envisioned Spotify not merely as a music repository, but rather as akin to a supplier of soundtracks (i.e., background music).
The first thing to mention when talking about
the innovation of Spotify, founded in 2006, is its legitimate business model that provides free access to music around the world. At a time when the music moved from physical albums to digital files, Spotify carved out a new market that satisfied creators, providers, and consumers alike. In addition, streaming technology, which helps music lovers appreciate more music without having to own it, was an idea that changed the nature of the music. The origin story of streaming technology is well-portrayed in
The Playlist
, a docudrama miniseries about the creation of Spotify. In Sweden, a country built on social democracy, sharing music was directly related to the values of equality and freedom. It is no exaggeration to say a sort of social movement—one that claimed music should not be treated as a luxury but as a necessity like water or food—led to the development of a product called streaming.
Over a decade since its inception, Spotify remains dedicated to breaking barriers and enhancing music accessibility through numerous strategic aspects of its service. My initial subscription to Spotify pleasantly surprised me with its focus on enhancing convenience. The approach of treating every mood, taste, or situation-specific playlist as an album, instead of merely building a library around artists and albums, truly stood out. This new perspective clearly shows Spotify's passionate desire to free up users' time and effort that goes into exploring and experiencing music. It's akin to suggesting a themed course meal at a restaurant for indecisive diners. While recommending music through playlists, Spotify neither is hierarchical nor authoritative. Rather than promoting hit artists and songs from big music charts or music that is lauded by critics, Spotify brings together individuals worldwide who have similar musical preferences.
In the end, Spotify has emerged as a significant influencer in the music industry, garnering recognition even from media outlets as a service that "satisfies all types of music-listening scenarios." In other words, Spotify doesn't think of music as the final destination; rather, it employs music and channels as vehicles to bridge diverse destinations. During his middle school days, Daniel Ek was showcased coding brilliance and was renowned for his programming prowess. During that era, he said something to a friend that almost foretold the creation of Spotify. "Suddenly, it struck me that everything is interconnected." As he mused two decades ago, music of today might function as a certain "stream" that connects a person with another person, a time with another time, a space with another space. Then, how music will be defined in the future? I'm intrigued to witness whether Spotify can once again redefine music.
Eunsung Park Editor in Chief
■
Table of contents
02 INTRO
08 EDITOR'S LETTER
12
GAME CHANGER
Media reactions at the time of Spotify's creation
16
CRITICS
Changes in the music-listening environment as well as future music market prospects as told by three experts
20
OPINION: GREG OGAN
Greg Ogan, associate professor at the Berklee College of Music and lead for diverse music projects, talks about the positive changes Spotify brought to the music industry
26
VIBRANT OFFICE
Spotify's office environment as seen in its office in Stockholm, Sweden—the birthplace of the platform
32
SPOTIFIERS
What 12 employees think of Spotify's fun and exciting in-house culture and atmosphere
36
ESSENTIALS
Key features and services that show Spotify's core competencies as a music platform
42
ADVANCEMENT
Innovative achievements of Spotify, which has quickly identified problems and come up with the best solutions
48
CUSTOMIZATION
First impressions of Spotify's personalized recommendation services from after these new users used Spotify for two weeks
54
THE FOUNDER: DANIEL EK
Spotify's DNA and vision are laid out in this interview with Spotify founder and CEO Daniel Ek
60 BRAND STORY
The growth story of Spotify, which has become a vehicle through which users can truly discover and explore new music
66
THROWBACK
Behind-the-scenes stories about Spotify's four early members who dreamed of democratizing music
70 INTERVIEW
Spotify's key strategies and culture explained by Alex Norström (co-president and chief business officer), Katarina Berg (chief human resources officer), and Gustav Gyllenhammar (VP of the markets and subscriber growth team)
76
NOTES
Music experts observe changes and phenomena on the Spotify platform
80 MUSIC IS EVERYWHERE
Stories of four artists who use Spotify to experience music, communicate with fans, and conduct musical experiments
98
PLAYGROUND
Introducing Stream On, an in-person event that is a manifestation of Spotify's vision to become the optimal platform of choice for audio content creators
104
AUDIO GENERATION
Spotify's practical measures that have helped establish the company as a comprehensive music platform as well as its signature podcasts and video programs
112
OPINION: PUJA PATEL
Puja Patel, editor-in-chief of online music zine Pitchfork, talks about where the music industry should be headed
118
MUSIC VOYAGERS
Meet Spotify users who have explored their own musical worlds with creative energy
126
IN SPACE
Various spaces that use Spotify playlists to create unique identities
1
34
IMPACT
Spotify's collaborations that cover all parts of life and its music programs
that are meant to increase and promote diversity
1
40 DIGEST
Meaningful figures and info that show the brand's influence
143 OUTRO
■
Content Images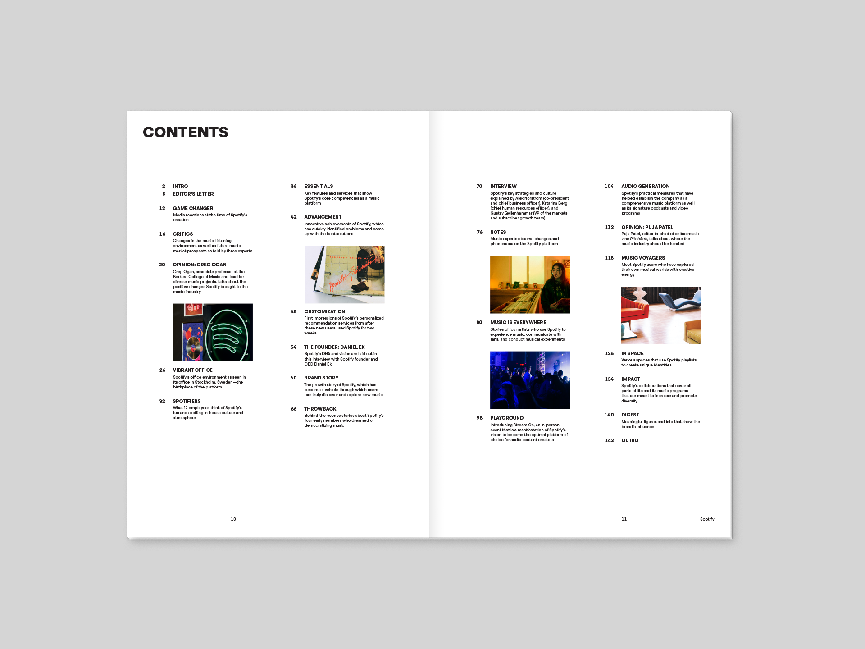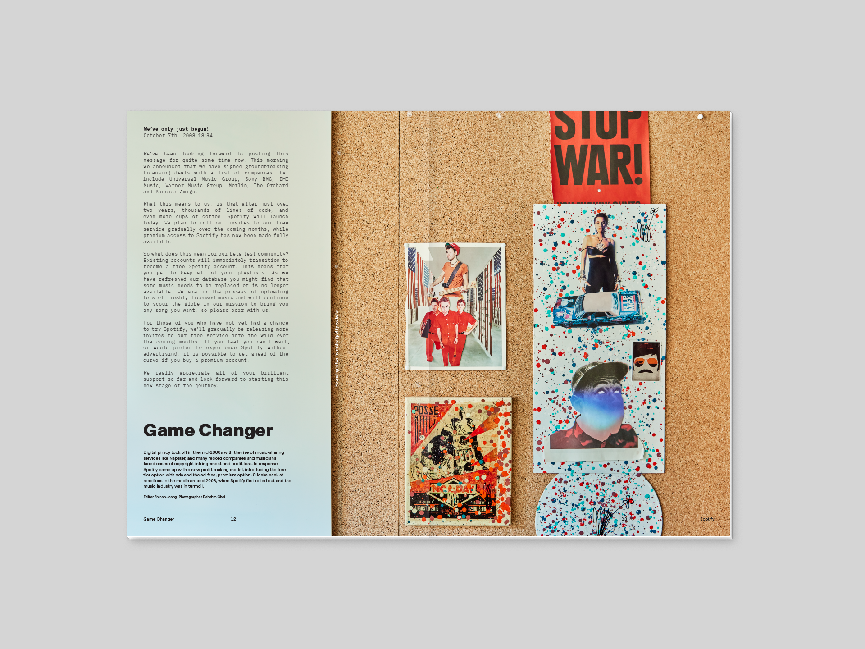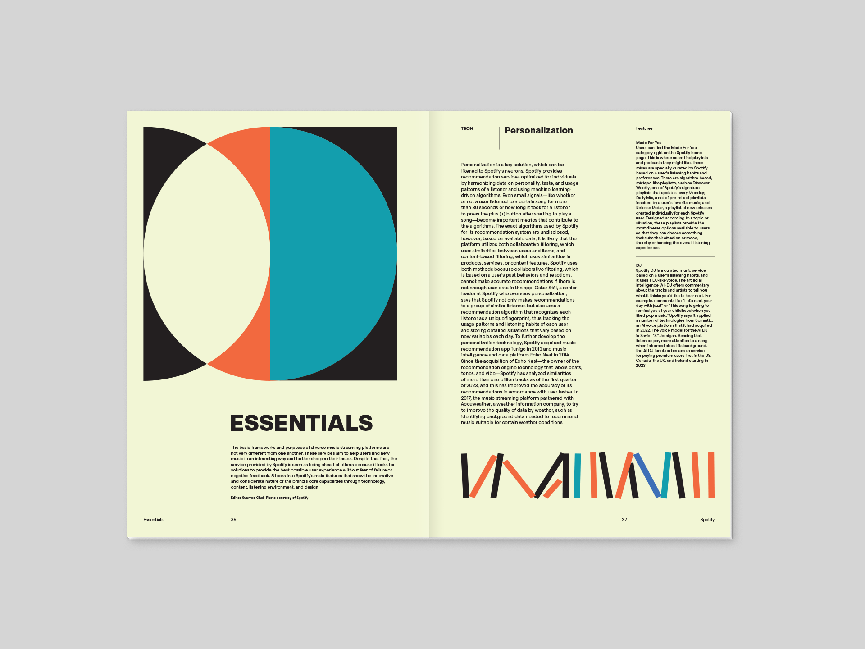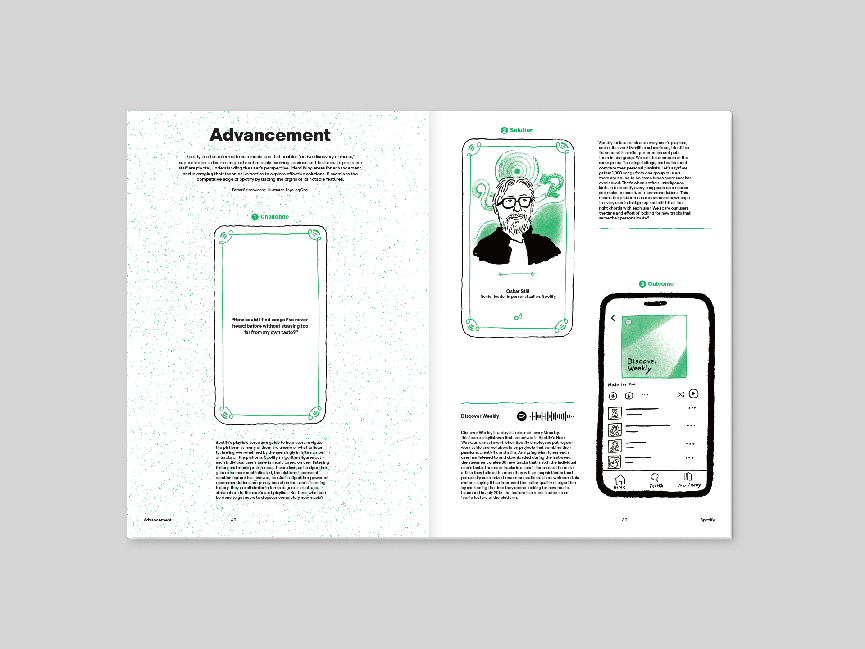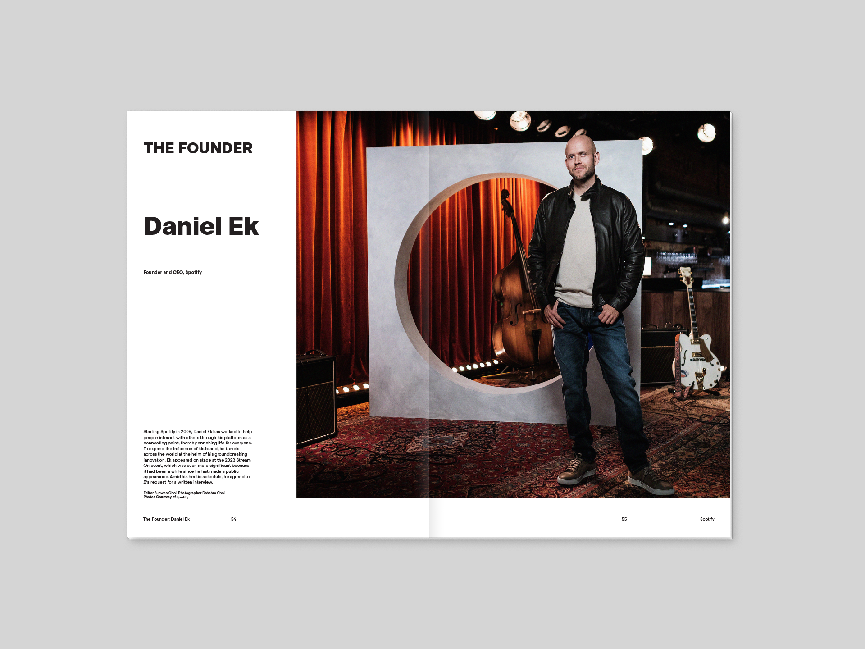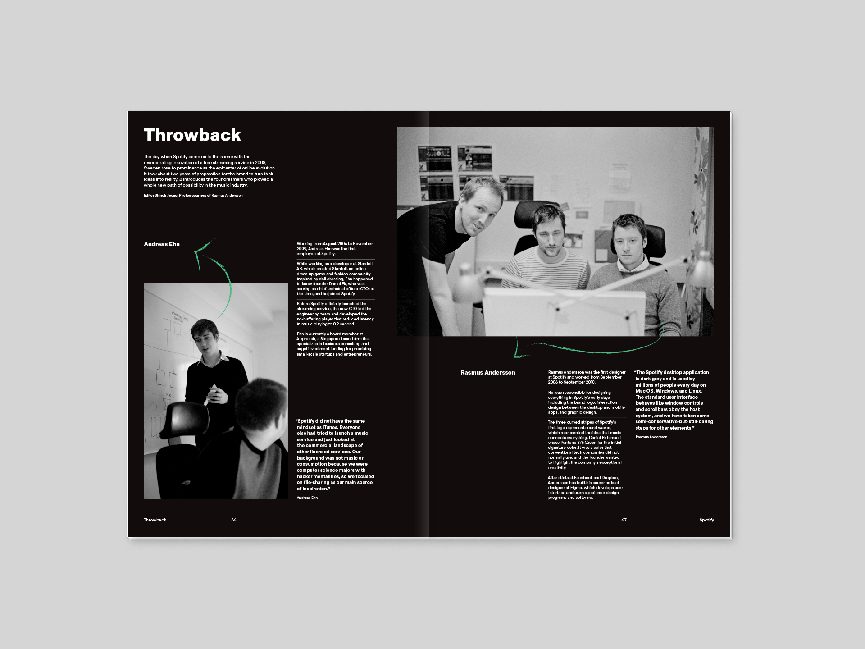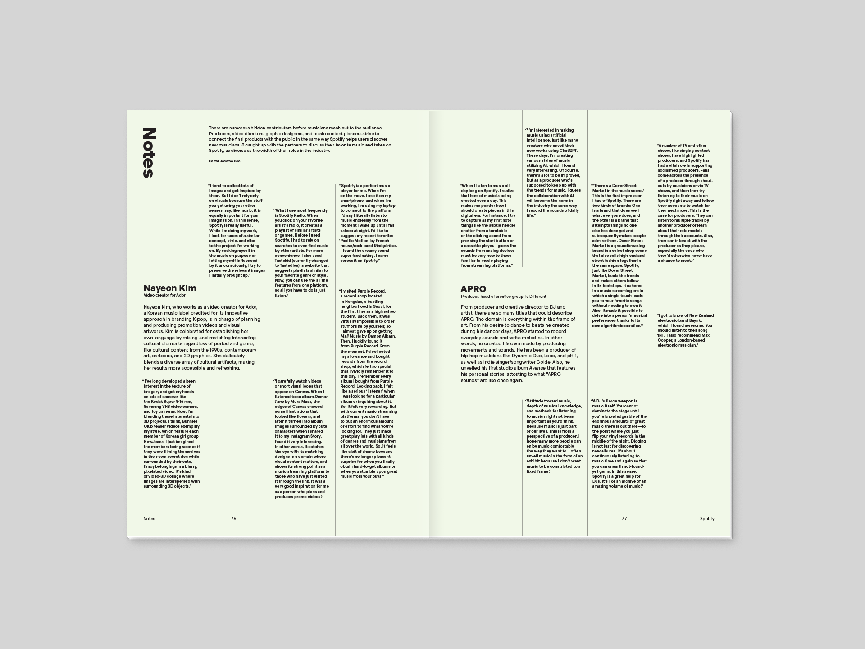 s